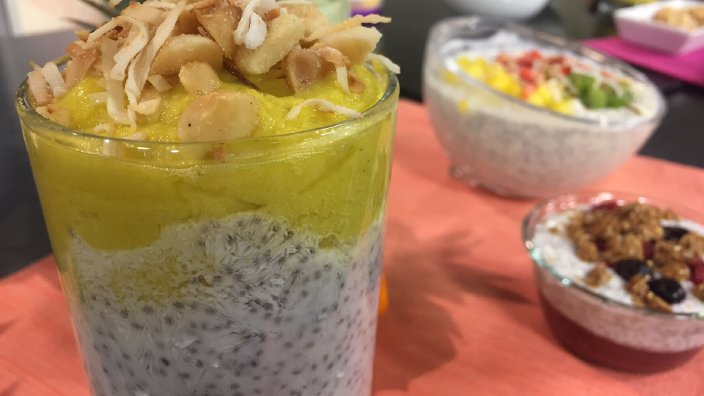 Tropical Chia Seed Pudding
By Kristin Andrus
Give breakfast a tropical taste with this recipe. Kristin Andrus shares how to make Chia Seed Pudding three ways.
Method:
Chia Seed Pudding Base
Ingredients:
2/3 C

Chia seeds

2 C

vanilla greek yogurt

2 C

unsweetened vanilla almond milk

Dash of vanilla
Dash of kosher salt
Method:
Mix and let sit overnight
Mango and Mint Chia Pudding Parfait
Method:
In a blender, blend mango chunks, lime juice, 3 mint leaves, and a splash of orange juice or water. Mix until smoothly combines. Fill glass 1/3 full of Mango puree, top with chia pudding, top with more mango purée. Top glass with toasted coconut and macadamia nuts.
Acai and Chia Bowl
Method:
In a blender, blend acai packet, banana, and additional berries. Blend until thick and combined (may need to add a little water). Fill bottom of bowl with acai mixture then top with chia pudding, add some additional berries and granola.
Tropical Tapioca and Chia bowl
Method:
Make tapioca according to package directions. Let it cool. Combine the pudding with the tapioca and let set for 20 minutes to combine. Top with tropical fruit like strawberries, pineapple, kiwi, other passion fruits, etc. Find more recipes from Kristin on Instagram, @kristinandrus