By Alisa Bangerter - Studio 5 Party and Idea Correspondent
____________________________________________________________
â"¢ To make a deep black icing, add black food color to chocolate icing.
â"¢ A fun filling for a Halloween cupcake is: 8 oz. cream cheese, 1 egg, ¼ c. sugar and dash of salt. Mix in orange food coloring and tiny chocolate chips if desired. Place a dollop onto cake batter in each cup and filling will go to center of cake when baked.
â"¢ Mix colorful sprinkles into batter before baking. Try orange, black, green or bright purple for Halloween. Other fun mix-ins might include fruit, chopped nuts, crushed candies, tiny chocolate chips, etc.
â"¢ Color white cake batter with food color. Divide batter in half (or thirds) and color one half one color and the other half a different color. Spoon both colors side by side into the cupcake paper liner and bake. For Halloween try black and orange or green and purple.
â"¢ Place an Oreo type cookie or peanut butter cup type candy in the bottom of a cupcake liner before adding batter.
â"¢ Arrange cupcakes to create a cake. For example, make a curvy line of cupcakes on a platter to create a caterpillar or a creepy snake.
â"¢ Make witch cupcakes by baking cupcakes and frosting with bright green icing. Place a chocolate sugar ice cream cone upside down on a flat cookie and adhere with melted chocolate. Place cone on cupcake to become a hat. Use string licorice for hair and a green gumdrop (rolled into a cone) for a nose. Decorate outside of hat with candies if desired. (Opt: Fill cone with candies as an additional surprise before adhering to cookie.)
â"¢ To make a web on top of a cupcake, pipe on several circles or rings of icing, piping gel or chocolate. Use a toothpick to pull through the circles from the center out (about 8 times). Place a plastic or candy spider on the cupcake.
â"¢ Place a stencil over a chocolate cupcake and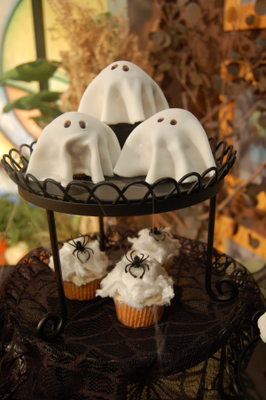 sprinkle with powdered sugar to create design. Use simple shapes such as the moon, bats, pumpkins, a witch hat, etc.
â"¢ Cut the top round part of the cupcake off and set aside. Spread orange jam on the remaining cake. Use a tiny cutter to cut a shape (bat, pumpkin, moon, etc.) in the portion that was cut off the top of the cupcake. Replace top piece on jam covered cake so jam shows through the cut-out portion.
â"¢ Sprinkle cupcakes with coarsely crushed Oreo cookies. Place gummy worms coming out of the cupcakes as if it were dirt.
â"¢ Decorate cupcakes with small toys. Look for skulls, bats, flies, pumpkins, witches, snakes, skeletons, etc. There are a lot of cute plastic bugs around this time of year as well.
â"¢ Wrap strips of decorative paper around cupcake bottom for display. Paper that is printed with creepy or spooky poems, photos, or sayings, add a unique presentation. Distress paper with inks and chalk to make it look old.
â"¢ Wrap pretty ribbon bows around cupcake papers after decorating. These can be made to coordinate with any theme.
â"¢ To make a decorative paper bowl for the cupcake to sit in for serving or display, cut a circle of tissue or lightweight paper (circle size will be different for different size of cupcakes). Use decorative scissors for edge of paper if desired. Place paper circle over the top of a jar or cup that is slightly larger than the bottom of the cupcake. Place an elastic around the paper to gather it around the jar. Glue or tape a ribbon around paper just above or below elastic. Remove elastic and carefully remove. Set cupcake in paper cup to display.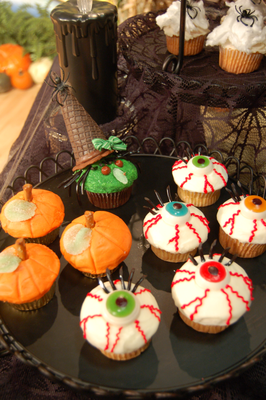 â"¢ To make unique and fancy chocolate garnishes, melt chocolate (white or regular) and place in a pastry bag with a round tip. Pipe spiders or webs or spooky shapes onto wax paper and let harden.
â"¢ Use any oblong cookie to create a tombstone on a cupcake. Simply crumble chocolate cookies over the cupcake to resemble dirt and stick the cookie partway into the cupcake. Add a gummy worm or skeleton bone candies or a candy pumpkin if desired. To make this really fun, "bury" some skeleton bone candies just under the top of the cupcake before icing.
â"¢ Make a bat cupcake by placing a small unwrapped chocolate Tootsie Roll candy on a cupcake and attaching two red candy eyes. On either side of the candy roll place a flat chocolate cookie that has been cut in half to create the wings.
â"¢ Create a spider nest cupcake by placing a pile of cotton candy (white, orange, black, purple or green) on the top of a frosted cupcake. Add some plastic spiders.
â"¢ Create a mummy cupcake by placing two candy eyes on the top of a cupcake. Randomly cover the top of the cupcake around the eyes using strips of white icing, fondant or fruit leather cut into strips.
â"¢ A fun activity to do with children is to let them create monster cupcakes. Simply place a variety of candies in bowls and let them decorate the cupcakes into monsters using the candy. Make sure to have candies that can be used as teeth, eyes, hair, etc.
â"¢ To make cute ghost cupcakes, frost the tops of cupcakes with a cone of chocolate icing about 2" high. Place in freezer to keep icing from getting soft until ready to adhere "ghost" top. (Note: instead of chocolate icing a large black gumdrop could be used.) Roll out white fondant and cut into a large round circle (large enough to drape over top of cupcake.) Use a drinking straw or tiny oval aspic cutters to cut eyes in the fondant. Drape over cupcake to form a ghost.
â"¢ To create a spider cupcake, simply frost a cupcake with black or chocolate icing. Cover entire top with black sanding sugar or chocolate sprinkles. Place four pieces of licorice in each side of the cupcake to create legs and add some candy eyes. Serve on a plate that has a chocolate web drawn on it.
â"¢ Tie a ribbon or string to a small toy or novelty such as a spider ring, plastic bone, spooky poem (wrapped in foil), etc. Cut a slit in the top of the cupcake and insert item, leaving the ribbon hanging out the top. Carefully frost around ribbon. The recipient pulls on the ribbon and out comes the surprise. (Use this idea with older children or adults to avoid having a small child choke on the item inside.)
â"¢ To create a cauldron, frost cupcake with a green or purplish color. Place a licorice handle over the top. Coat mini marshmallows or any round cereal (Kix, Rice Krispies, etc.) with melted green or purple candy coating to create "bubbles". Place on top of cupcake and add candy bugs or other items that might be in a cauldron.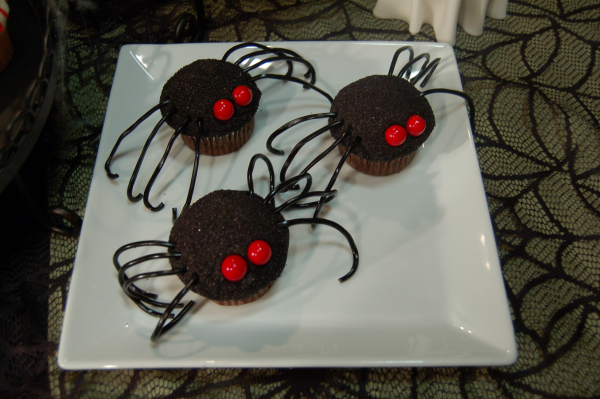 â"¢ Top cupcakes with dollops of marshmallow crème, whipped cream or white frosting to create ghosts. Add tiny candy eyes.
â"¢ Place several cupcakes together with a letter on each to spell spooky words.
â"¢ To make a pumpkin cupcake, frost the cupcake orange. Insert a pretzel rod for a stem and roll a green gumdrop into the shape of leaf and adhere next to stem.
â"¢ To make creepy eyes, cut a large marshmallow in half. Add a round candy to the center of the marshmallow and add to top of white iced cupcake. Make crooked red icing lines radiating form center of cupcake. (Or make center of eye using a green Lifesaver candy with a tiny black jelly bean in the middle.)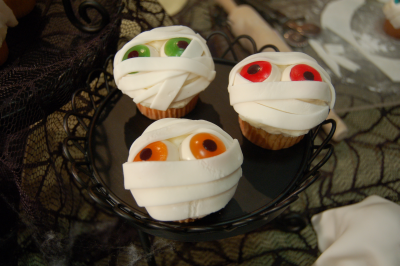 â"¢ Place some plastic Dracula teeth coming out of the top of a cupcake. Add some red gel icing for "blood."
â"¢ A fun addition to a Frankenstein cupcake is to place a skewer through the side of the cupcake (all the way through the paper liner on both sides). Attach a green candy to each end of the skewer. This will make the "bolts" at the side of the neck.
â"¢ Make caramel apple cupcakes by baking spice or apple type cakes in thick white cupcake papers. Frost with melted caramel or make a caramel icing. Place a wood stick in the top of the cupcake.
Remember the decorating ideas are endless - be creative. Happy Halloween!