Cindy Higham, author of "Snowflakes for all Seasons" gives us tips on making some very impressive creations.
________________________________________________
Anyone can make a paper snowflake
Cindy Higham
AllSeasonSnowflakes.com
Find some sharp scissors, paper and scotch tape, and you are ready to start.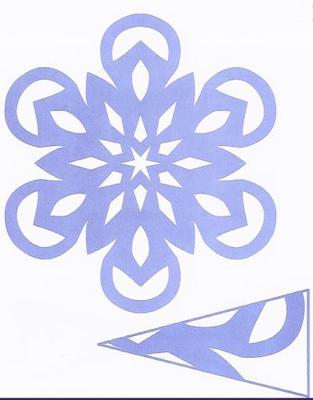 Best kinds of paper:

Light weight copy paper
Strong wrapping paper
Lightweight scrapbook paper
Decorating

Glitter
Markers
Colored pencils
Steps to a beautiful snowflake
Fold your paper
Cut around the edges of a pattern and fit it to the folded piece of paper
Tape the pattern to the folded piece of paper (put tape over the dark part of the pattern) Cut out the white part of the pattern (cut through the tiny lines around the sides of the pattern they are there just to show you how to fit the pattern to the folded paper) Take off the tape
Unfold the paper and you have a beautiful snowflake
Flatten your snowflake by putting it in a book for a while or iron the snowflake with a slightly warm iron.
Get out the glitter pens or markers and decorate your snowflake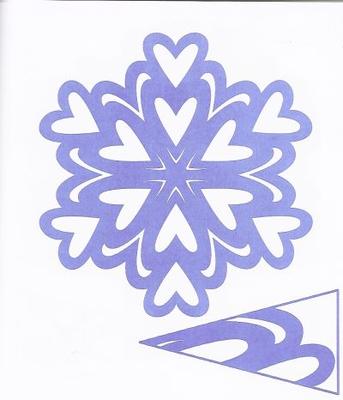 Uses for your snowflakes
Hang from the ceiling by thread and watch them flutter when you open the door.
Use the snowflakes to decorate walls for a winter theme party
Use the snowflakes as backgrounds for scrapbook pages
Christmas tree decorations (or any holiday decorations - decorate a tree with pink and red snowflakes with hearts in them for Valentine's Day)
Make your own cards using a snowflake wrapped around the outside
Put a snowflake on a colored paper plate and then put some plastic wrap over it and then add goodies to the top to take to a neighbor.
They can eat the goodies and then they have a beautiful snowflake to hang up.
Laminate two rows of snowflakes side by side (total of 6 snowflakes) and make winter place mats.
Use the snowflakes as backgrounds in picture frames or shadow boxes
This is one of the least expensive fun activities your family can do together on a cold winter day. Just enjoy each other's company and HAVE FUN!!
__________________________________________________________
For folding instruction click on the following link http://allseasonsnowflakes.com/howto.html