Valentine Kits for Kids Who Love to Create
February 9, 2018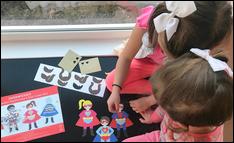 If you've got crafty kids, making valentines is like hitting the jackpot! Give them their own kit and let them go to town.
Jamie Cook shares a few of her favorite valentine kits and where to find them.
Find more ideas from Jamie on Instagram, @wander_and_scout
Shopper's Guide: Click on the links below to find each product online.
Super Heroes Card Kit $19.95, Paper Source
Handbag Valentine Card Kit $19.95, Paper Source
Personalized Slime Labels and Containers $9.99, The Slime Gift Shop (Note: Slime Kits won't arrive until after Valentine's Day)
Retro Valentine Cards $3.00, Target Dollar Spot
Valentines Party Kit $34.95, Confetti Crate (Note: Sold out of the Valentine's box)