Studio 5 contributor Courtney Orton stopped by to see what Magazine Monday was all about.
---
A stash of magazines is one of the "Small Things" Mountain Green resident Melissa Quigley likes to celebrate with her girlfriends. "Going to the mail for me, is one of the things I look forward to," says Quigley. She takes her love for going through magazines and catalogs one step further. Every other month she invites her girlfriends over for Magazine Monday. Her girlfriends bring a dish to share and a stack of catalogs and magazines, and they sit around and share the things that stand out or spark an idea.
Magazine Monday is something so simple to throw together.
Keep the Invitation Simple
– Download it for free from heyhaydesigns.blogspot.com
– Add a simple magazine flower to take it up a notch
Bring Something Yummy to Share
– Have everyone bring something to small share
Incorporate Magazines into the Decor
– Incorporate Magazines into the décor with pennant banners, magazines on the backs of chairs, and magazine flowers
Get Everyone Involved
– Embellish a mini clipboard and encourage everyone to write down the things that catch their eye
– Have everyone bring a stash of magazines and catalogs to share
Send Something Home
– Give guests a bundle of cards so they can send a piece of mail to someone else
– Embellish the bundle with a cute magazine flower
---
Melissa Quigley
hollyhocks-honeybees.blogspot.com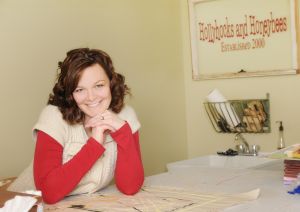 Melissa Quigley is a successful stay at home mother of 3 girls. She operates a thriving home based business, Hollyhocks & Honeybees, from her Mountain Green home where she creates unique, eclectic, one-of-a-kind frames & other home décor. Melissa grew up in Cache Valley in the wonderful little town of Lewiston. She attended Sky View High School and then graduated with a degree in Secondary Education from Utah State University. Melissa now lives in beautiful Mountain Green, Utah with her husband Tyler and their daughters; Macey, Audrey and Emily.
Melissa loves creating and hosting parties for her friends and family throughout the year. When she is not entertaining she enjoys; baking, antiquing, attending BYU football games and watching Duke Basketball with her family.
Haylee Larson
Heyhaydesigns.blogspot.com
www.facebook.com/heyhaydesigns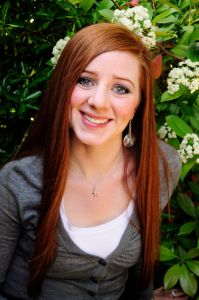 Hey Hay Designs is a unique, custom design studio in St. George, UT. I specialize in wedding announcements but can do an invitation for any special event.