Brett Lund from Robert's Crafts shows off some simple gifts of love.
---
Sucker Holder
1. Cut a piece of cardstock to 6 ½" x 3″.
2. Score it at 2 ¾" and 3 ¼".
3. Fold the piece of paper on the score lines.
4. In the middle of the piece of paper, find the center and punch a hole. This is where the sucker will pull through the holder.
5. Cut paper to put on the cover. I cut a piece of paper 2 ¾" x 2 ½".
6. I glue the paper to the front cover.
7. Fold over the cover and punch a notch in the top where the flap ends. This will create a small flap where the paper can poke under it.
8. Cut "Queen of my heart" at 2 ¾".
9. Glue a piece of red paper to the back of the "Queen of my heart".
10. Ink the edges of the paper.
11. Glue the "Queen of my Heart" on the front cover with pop dots.
12. Stick the sucker in the center and tuck the flap under the notch.
Wrapped Gum Holder

The instructions are for the Eclipse Gum
1. Cut a piece of paper 6 ½" x 4″.
2. Score on 2″, 2 5/16″, 4 14/16″ , 5 ¼"
3. Score all the lines.
Spring Holiday Cards Cricut cartridge
All paper is from Doodlebug design

Red Colorbox cats eye ink

Pop dots

Pretzel bags

Wooden skewers
1″ x 8″ clear bags (I purchased them from www.clearbags.com)

Pink ribbon

Assorted colors of Sharpie markers
3/16″ hole punch

Classic Scalloped Heart &Classic Diamonds dies from Spellbinders

Basic Gray Notch and Die set
For more information on today's giveaway go to:
blog.robertscrafts.com
---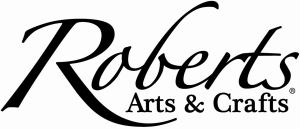 For other craft ideas or to find a store located near you go to:
www.robertscrafts.com