Spring is finally here, which means it's time to ditch the boring browns and blacks of winter and add something fun, funky, and fresh to your wardrobe!
Ashlie Bundy shares a sneak peak at styles you'll find this weekend at Bliss Boutique.
---
Bliss Boutique is just the place to help you get started for spring, offering everything from darling new dresses for Easter to sassy new spring tops and adorable accessories to finish off any outfit. Bliss Boutique is the place to be this week.
Every month, after searching the state over for the best deals and hottest fashions out there, Bliss Boutique opens its doors for a 3-day-only event you won't want to miss. So mark your calenders and make plans to celebrate spring in style this Thursday-Saturday only at Bliss Boutique.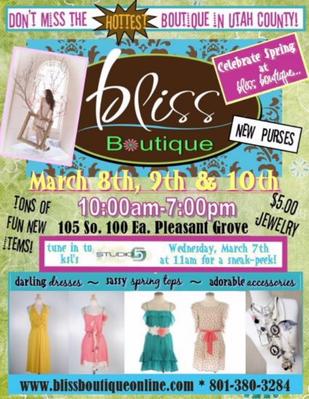 If you just can't wait until Thursday morning to start shopping you're in luck! Bliss Boutique will be holding it's "studio 5 secret shopping event" today from 1:00-3:00. This is your chance to beat the crowds and shop all of the fabulous new arrivals they have to offer this month before the doors even officially open. And don't forget you can also shop online at www.blissboutiqueonline.com
---