Blogger Michelle Lunt shares two "Anthro-Inspired" fashion projects.
---
Anthro-Inspired Dress
Recently, I restyled a thrift store dress, and I had so much fun that I wanted to do it again!
Which brings me to: Anthropologie. (sigh) When I visited Anthro last week,I wanted half the clothes in there!Especially this: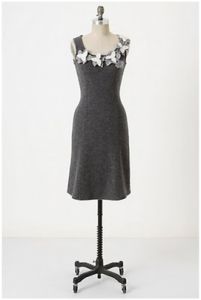 "Dried Leaves Dress" $158 at Antropologie
Later, while shopping at the thrift store (a store more within my budget!), I came across this dress: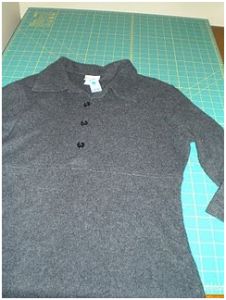 It has a similar gray wool look.I decided to make some of the felted wool leavesto style this dress like theAnthro inspiration dress.
I made a template from card stock& played with the shape of the leafuntil I liked it. Then, I just movedthe leaf around to make 3 petals.I used this soft, thick felt
for the cream leaves.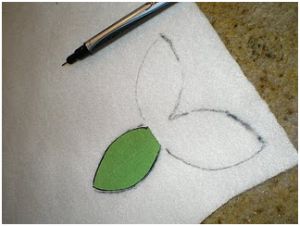 Each flower has 3 layers: one cream felt& two felted wool(a slightly lighter color of gray than the dress).The felted wool is an old sweater that I washed in the washing machine.I also sewed a seam down the middle ofeach leaf on the cream felt for visual interest.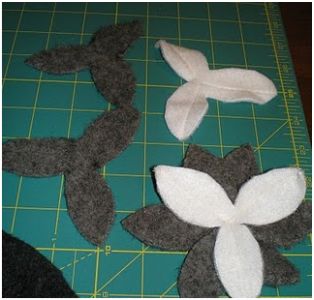 I really like the way it turned out!
Here's the Anthro dress: ($158)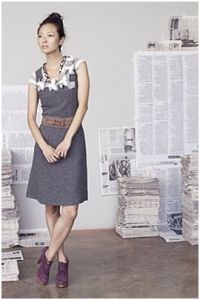 Here's the thrift store dress: ($6)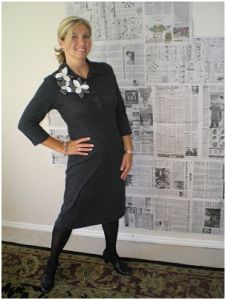 By the way, we couldn't resist copying the newspaper on the wall – ha!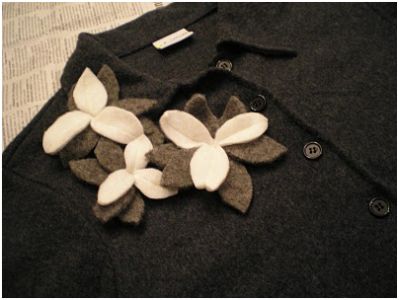 Anthro-Inspired Bracelet
The first challenge was deciding what to use inside the bracelet to shape it.
You'll never guess what I used!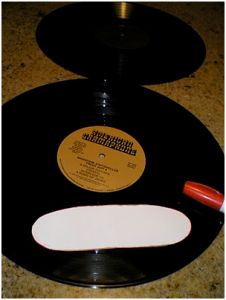 Does anyone remember these babies?
(No, I don't want to talk about how if set my
first Elton John record on my lamp–warping & ruining it!)
Anyway, old vinyl albums can be found at the local thrift store for 50 cents.
(TIP: try to find one from about the 70's or 80's-
before that some of them were much thicker.)
Make a pattern from paper in the size & shapeyou want your cuff to be.
(Mine was about 2″ wide & 5 3/4″ long.)
Use a marker to draw around your pattern on the vinyl album. You can make about 4cuffs with each album.
Then heat the album on a cookie sheetat 200 degrees for about 10 minutesor until it starts to warp.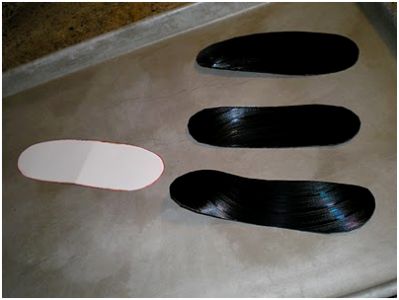 Cut around the lines you drew with your marker earlier.
If the record starts to get too stiff, put it back in the oven again.
(The white one is my pattern.)
Put the vinyl back in the oven until warm & soft again. The best way I found to get the right shape is to put it on my wrist while it is still warm.
(Mine wasn't hot enough to burn.)
Hold it in place for a few seconds until it cools & hardens.
(TIP: if you don't like the shape,
just put it back in the oven & try again.)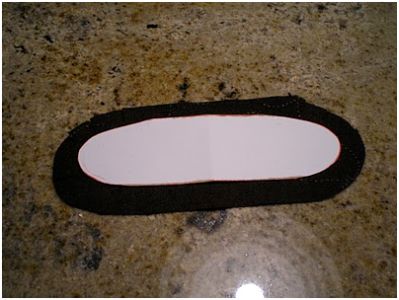 Next cut a piece of fabric a little bigger than your pattern.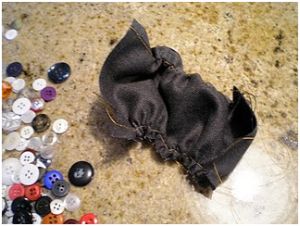 If you want your cuff to have shirred fabric, like the Anthro one, you can sew a gathering stitch on each side.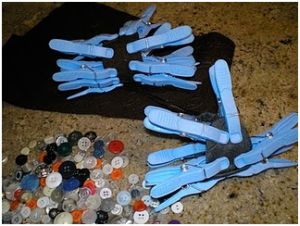 I used a tacky glue to adhere the fabric to the cuff & lots of clothespins to hold it in place
for drying.
I then hot glued the buttons on, but if you prefer, you can sew them on before you attach the fabric to the vinyl.
Here's the inspiration bracelet from
Anthropologie: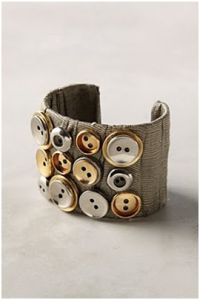 And here's my version: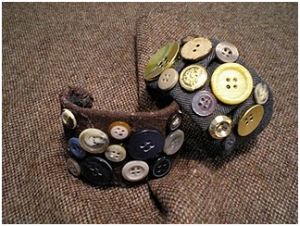 Have fun making your own!
---
You can check out Michelle's blog at www.michellelunt.blogspot.com