The projects inspired Kelly Brown from Heartland Paper to make her own unique décor from old book pages. She shares her ideas.
---
JEWELED FLOWERS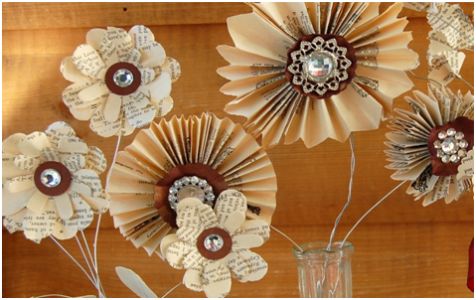 • CHRISTMAS GARLAND
• EMBELLISHED WREATH
For detailed instructions on how to make these projects, check out the Heartland Paper Website, www.heartlandpaper.com. Plus, don't miss Heartland Paper's clearance sale going on at both locations. Everything in the store is 20% off starting Thursday.
---
Heartland Paper has two locations for your scrapbook shopping needs:
Bountiful Store
616 W. 2600 So.

Bountiful, UT 84010

(801) 294-7166

Hours:

Monday: 10 A.M. to 6 P.M.

Tuesday – Saturday: 10 A.M. to 8 P.M.

Closed Sunday
Taylorsville Store
5794 So. Redwood Road
Taylorsville, UT 84123

(801) 963-6101

Hours:
Monday: 10 A.M. to 6 P.M.
Tuesday – Thursday: 10 A.M. to 8 P.M.
Friday & Saturday: 10 A.M. to 9 P.M.
Closed Sunday