Designer Tausha Hoyt has fresh new ways to wake up your walls!
---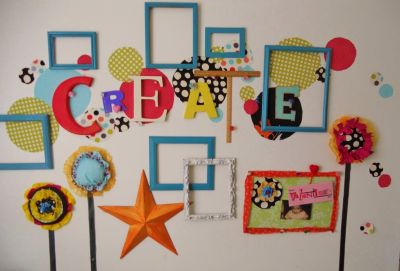 Are your walls begging you for some attention? Is your wallet a little on the empty side? All of these ideas are simple, inexpensive and will make your walls shine! You will love all of your walls; you won't know where to look first.
Vinyl: I know what you are thinking. "Vinyl is not new, I just took all the sayings off my walls, and isn't it so yesterday?" Good news, I am going to change your mind. Vinyl is not new, but these ideas are definitely unique, one a kind. None of your neighbors will have these vinyl ideas adorning their walls.
Do you have a wall that is considered the "crooked" wall? You know the one, no matter what you do, you can't get a picture to stay straight. Whether it's because of the clumsy people that live in your house or it just one of "those" walls, I have a solution. Semi- Permanent wall art.
I found fabulous vinyl from Single Stone Studios www.singlestonestudios.com, and knew it would be perfect for the crooked wall. Not only is it a perfect saying, but it is quite large. I stuck the vinyl to the wall, and then had my wonderful husband cut me some molding to frame it out with. I painted the molding pieces, added some stain and then we stapled it to the wall. It is not moving! It turned out great and I actually have fewer holes in my wall now, than I ever did before.
Digital Art: We tend to think modern art when we hear the word digital. I found some fantastic pieces that will more than change your mind; it will change your walls décor as well. You can try your hand at creating your own, or you can be like me and hook up with some talented people. Master Bedroom walls feeling a little neglected? Add some pop with some custom pieces that remind you of your love! Kiki from Kiki Designs www.etsy.com made me the cutest collage. She did a silhouette of the bountiful temple and the year we got married, plus a little reminder of my husband's cutest wife-his brown eyed girl.
Jordan from jordyluxe.etsy.com created one of a kind cartoon portrait of my husband and I. I love looking at it. It makes me so happy! You can't beat the price for a custom piece of art.
I finished out the grouping with a little Love piece by Lindsay from Sugarfresh designs www.sugarfresh.com. Now my husband can be reminded how much he loves me in 20 different languages.
Canvas: This is a big trend that is coming back strong in the design world. I actually found a canvas at the DI for $2. I had this cutest print printed at Costco. I needed it to fit my 16×20 canvas. This was a Christmas gift from a dear friend. I LOVED this and I felt it couldn't be enjoyed until it was at least a 16×20 size. She made this up on photo shop. You could have
anything printed to fit a canvas that you own or order your own custom family picture canvas. Either way you go, it's a great way to add dimension to your wall décor.
Twine: Be-twine you and me, I have an awesome idea that is perfect for any wall in your home. If your itching for a craft project that can be done in under an hour-this is the project for you. I found some twin online in all different kinds of colors. I picked them up from Noni-she has all colors in her etsy shop and they are very cheap! I then used some drop cloth that I cut up as my background. You could use fabric or muslin or even felt. I just wrote whatever words I wanted with a pencil. I then glued the twine to the words with a low heat glue gun. You want to make sure you use a low heat-if you don't, you will have far too many blisters to finish. When you
write the words, you will want to write them in cursive, just so you can keep the twine in one consecutive string as you spell. Mine is for my kitchen, but you could spell anything. Names, dates, whatever. Plus, if you have older kids, they can do this with you. The pretty little package-twine comes in many colors: www.etsy.com/shop/prettylilpackage
Embroidery Hoops: Remember when you were little and you all tried to cross stitch on the little hoop? Well, those are the hoops that you want to use for this idea. I just went to the Di and got all kinds of different sizes. The hoops were under a $1 each. I then found some fabric that I liked and made my own custom artwork. Some of them are embellished with rosettes, little banners and some with words. You can even layer your fabric. You can be really creative with this one.
If you just want to display some fabric in them-that works too. These are great if you want temporary wall décor. It's quite simple to change out the fabric from season to season. You could even use these to display old handkerchiefs, quilt pieces, grandma's dishtowels or even antique doily's. Go crazy. These are just a cheap, easy, simple way to perk up your walls.
Fabric and Liquid starch: Don't get the wrong idea here. I am not here to teach you or tell you how to iron. I am terrible at this and I avoid it all costs. But the starch is for décor-who wouldn't want to use it now? You can use liquid starch to adhere fabric to any wall. It will stick until you pull it off, and it's only temporary, and it will not damage your walls. So this is a perfect solution if you are renter, or if you're like me, and you change your mind a lot!
You find some fabric that you like and cut it out into the shape that you want to adhere to the wall. I chose polka dots. After I had cut all the circles out, I poured some of the liquid starch on to a dinner plate. I then dipped the fabric into the starch. Make sure that you fully submerge
the fabric into the starch. Think of your French toast technique. Now, when your fabric is fully saturated, ring it out. Then put it on your wall. Smooth it out so it's flat and there are no wrinkles in the fabric. The fabric will dry in about 45 mins. It will not come off, unless you pull
it off. I also did this with ribbon as well. I used ribbon for the stems of my flowers. I adhered the ribbon the same way. I also used ribbon to make some of the flowers. I love ribbon, I am kind of addicted to it. So, if I can find cute ribbon, inexpensively and then a reason to hang it on my wall-I am a happy girl! The ribbon retreat is a great place to find ribbon is you have
an addiction as well. www.theribbonretreat.com
Make sure you check out my blog. I am giving away gift certificates, free prints and more free stuff from some of my favorite people that helped make my walls look awesome! Also, there will be more pictures of all the ideas that I talked about on the segment on my blog.
Sassystyleredesign.blogspot.com
Happy Creating!
---
If your home is in need of little TLC and you're not quite sure what to do? Give Tausha a call. They specialize in using your stuff and your treasures. They Decorate your room and display your treasures in a such a way that your house, becomes the home you always wanted. Call for a free consultation.
Sassystyleredesign.blogspot.com