Kelly Brown from Heartland Paper is here to show us how to craft up these mini creations.
---
The banner on this cake and pedestal was so simple! It was made using the new sticker sheet from My Mind's Eye. Just simply peel them off and glue them to a thin ribbon or string.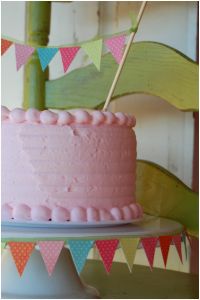 * Cake and Cupcakes supplied by Parson's Bakery in Bountiful (535 West 2600 South)
We used this same banner on our cute lime green chair to add a little bit of Flair.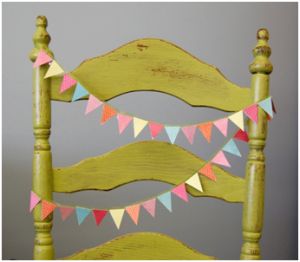 This banner is great for draping on doors, mantles, headboards, etc. To make this banner, simply punch circles (we used 1.75″) from double sided pattern paper and sew together with your sewing machine. It is so easy!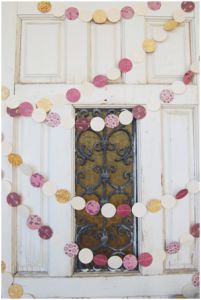 With fall in the air, this leaf banner is a perfect little accent decoration. We made this banner with cardstock leaves (we used the EK Success Maple Leaf Whale of a Punch) and natural twine. Just thread a needle with twine or ribbon of your choice and sew through both ends of the leaves. We added a few buttons between the leaves as accent pieces.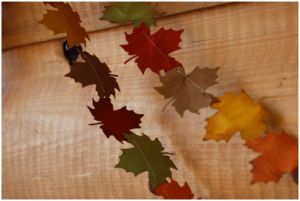 This banner would be adorable draped on your Thanksgiving table or on a mantle for the big feast!
For those of you who made our Butterfly Chandelier last year, this is another perfect piece for a little girls room. It would also be adorable as a decoration at a baby shower.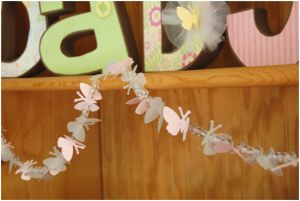 To make this banner, simply string pony beads and butterfly punches cut from vellum and cardstock (EK Success Whale of a Punch) onto fishing line. This banner is so fun in a window because the beads and vellum catch the light!
Beware, these little banners are very addicting. You can't make just one. Get creative and have fun!
---
Heartland Paper has two locations for your scrapbook shopping needs:
Bountiful Store
616 W. 2600 So.

Bountiful, UT 84010
(801) 294-7166
Hours:
Monday: 10 A.M. to 6 P.M.

Tuesday – Saturday: 10 A.M. to 8 P.M.

Closed Sunday
Taylorsville Store
5794 So. Redwood Road

Taylorsville, UT 84123
(801) 963-6101
Hours:
Monday: 10 A.M. to 6 P.M.
Tuesday – Thursday: 10 A.M. to 8 P.M.
Friday & Saturday: 10 A.M. to 9 P.M.
Closed Sunday