Kelly Brown from Heartland Paper shares 3 advent calendar ideas you can make at home.
---
*First aired November 19, 2009
Swirl Advent Calendar:
Things you will need:
14″ magnet board circle-available at Heartland next week for $8 each…get on the list now (or pizza pan-not alluminum)
25 1.5 oz plastic cups and lids (available at restaurant supply or Costco)
Color copy of number sheet on white cardstock
1 ¼" circle punch
1 ½" scallop circle punch
Strip Magnet
Red, Green, Brown Cardstock (We used printed paper by Lasting Impressions)
65 assorted Buttons
Ribbon
Adhesive, Ink, Scissors, Glue Dots
For a print out of the 25 assorted circles click here.
Instructions:
1. Use Scallop punch to cut 25 assorted circles from cardstocks.
2. Use 1 ¼" circle to punch out numbers and song words.
3. Cut out title with scissors.
4. Freehand a funky arrow out of red cardstock.
5. Ink all pieces.
6. Layer scallop circle and number circle and adhere to top of each cup
7. Glue song words inside each cup so that as you remove the lids the words to "Here Comes Santa Claus" will be left in the bottom of each cup.
8. Place a small strip of magnet on the bottom of each cup.
9. Use glue dots to adhere magnets around outside edge of board.
10. Place cups on board in a swirl pattern so they count down to Christmas.
11. Tie Ribbon through hole in top and hang.
12. Place treats or activities in each cup.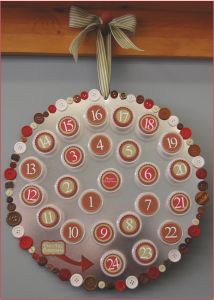 ---
For instructions on more great Papercraft projects go to: www.heartlandpaper.com
Heartland Paper has two locations for your scrapbook shopping needs:
Bountiful
616 West 2600 South
(801) 294-7166
Hours:
Monday: 10 A.M. to 6 P.M.

Tuesday – Saturday: 10 A.M. to 8 P.M.
Closed Sunday
Taylorsville
5794 South Redwood Road
(801) 963-6101
Hours:
Monday: 10 A.M. to 6 P.M.
Tuesday – Thursday: 10 A.M. to 8 P.M.

Friday: 10 A.M. to 9 P.M.