Creating Keepsakes Creative Editor, Megan Hoeppner shares stylish ways to store your scrapbook stash!
---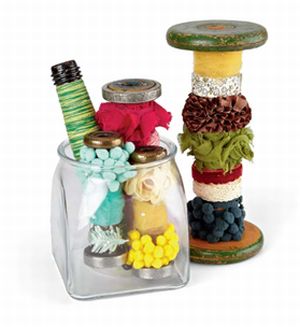 Adding new scrapbooking elements to your creative repertoire is fun and motivating, but it can also pose a small problem; how do you organize all of your new scrapbooking delights?
Here are a few fun solutions for storing fabric, trim, and other bits of texture that are functional, affordable, and adorable!
1. Use Vintage Spools to Store Trims
2. Store Fabrics in an Embellished Suitcase or Toiletry Bag
3. Use a Card File to Organize Textures
---
For more instructions on how to create these projects, visit the Creating Keepsakes blog at www.creatingkeepsakesblog.com.