Designer Lauren Oviatt with Oviatt-Pratt and Associates breaks down five hot and trendy designs.
---
1. Quatrefoil – The quatrefoil dates back to the late 1300's and refers to a shape with four points. In today's interiors, we see the use of quatrefoil patterns in more of a repetitive pattern, often reflecting a design that looks much like a lattice pattern. This modern interpretation can be seen as very formal or very geometric depending on the scale and color combination. I have used quatrefoil fabric on everything from large bedspreads to beautiful hand-tufted rugs and lovely accent pillows. The pattern is very versatile. I have also seen this motif used in smaller applications like kitchen towels and table linens.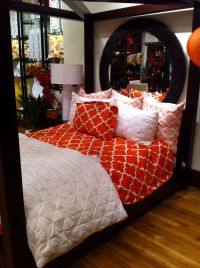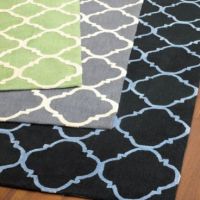 2. Medallion – This idea refers to any textile that has a dominant centered pattern often surrounded by blank space giving it even more attention. Often I'll use a medallion pattern for a statement pillow – as it draws the eye right in. If you don't use the medallion fabric to single out each motif, try to choose a larger application such as a tablecloth, duvet cover or large, flat ottoman. Too many seams or curves (on a chair or sofa) or too small an application will detract from the medallion's statement-making appeal.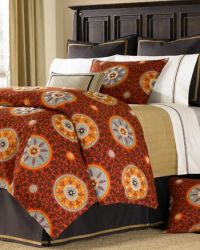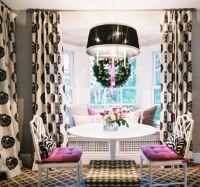 3. Chevron – Hot, hot, hot! We are seeing the zigzag motif all over the place. It is arguably the most popular current textile. Easily laid as an area rug, the chevron also has high impact when hung vertically in simple drapery panels or even as wallpaper on an accent wall, ceiling or contained space like an entryway or small bathroom. This pattern is just as high-impact and energetic in large scale as in small scale. Use in large application if you've got the guts; otherwise consider using the fabric for dinner napkins, throw pillows or as the seat fabric on a small accent chair.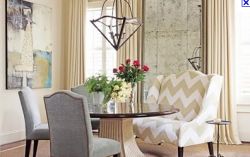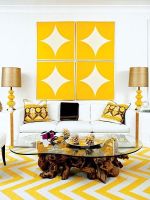 4. Ikat – This pattern, pronounced "ee-cot", refers to a particular type of printed fabric where the threads are tie-dyed before they're woven. The finished fabric often takes on a tribal or more primitive motif. The great appeal of ikat fabrics is the broad range of color combinations that add a lot of personality (as opposed to the other mentioned fabrics that often employ contrasting two-color palettes). Ikat textiles make a great statement as wall art (framed, wrapped on a canvas, or even papered), as oversized throw pillows (think lumbar-sized) or even folded over the back of your sofa as a piece that looks like it was picked up while you were traveling somewhere far away.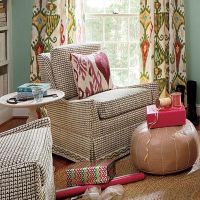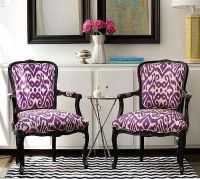 5. Nautical Stripe – So hot right now! Nautical stripes are so popular in fashion as well as home décor. Wide stripes and narrow stripes alike, the key to nailing the look is a two-color palette and a pattern where the stripes are the same width all the way across. My advice on this pattern : the larger the application, the larger the scale should be.
This pattern is the most versatile of the five – get creative with it! Use a piece to re-cover a neutral lampshade, make some dining chair cushions or a valance over your kitchen window. Nautical striped textiles are something I'd consider an investment because it is an enduring idea… these stripes go great in high modern, transitional, eclectic/bohemian and even country-styled spaces!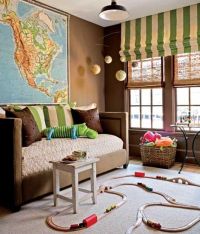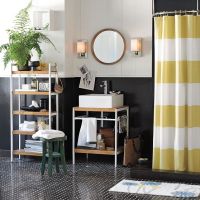 ---
Lauren Stimpson Oviatt
Oviatt-Pratt & Associates
Interiors & Design
lauren@oviattpratt.com
www.oviattpratt.com
801.451.4531
Lauren has always had a love for interior and landscape design, floral décor, and all things beautiful! Having lived in the South and also on the west coast before settling in Utah, her design instinct is to combine traditional elements and furniture with updated style and current color palettes. She is constantly looking for ways to infuse glamour into her projects while bringing a fresh perspective and an eye for tasteful, classic design. Lauren has degrees in both Public Relations and Interior Design and worked in wedding/event planning before transitioning to residential and hospitality design.
Oviatt – Pratt is a full-service design firm in business for over 25 years, specializing in high-end residential and commercial design. The scope of their projects ranges from simple home renovations to large-scale construction projects where design is implemented from the first color choices to the final finishing touches. With direct access to over 75 upholstery, accessory and furniture lines, Oviatt-Pratt's designers are able to provide each client with pieces that are particular to his or her taste and style. Their showroom is open to the public Monday through Friday.