Blogger Shelley Smith of "House of Smith" shares ideas and inspiration.
---
People in most households spend an estimated time of five to seven hours a week in their laundry rooms, yet these spaces are often drab, dull, and uninviting. You may find yourself a little less hesitant to do the laundry if you make it a space you enjoy to be in!
First of all – COLOR!
COLOR
Color is the easiest, fastest way to freshen up any space! Most of us don't have extremely large laundry rooms, so a great way to open up the space, and make it calming and more welcoming, is by picking a paint that will calm the "stress" of doing the dreaded laundry!
A few of my favorite colors are:

Green: Cyprus Grass, Glidden
Yellow: Champaign Tickle, Valspar
Blue: Upward, Sherwin Williams
Cream: Autumn Haze, Glidden
Always opt for paint with a satin finish – much softer and more inviting.
ADD SIMPLE WALL AND FLOOR TREATMENTS
Molding, bead board, or modern wallpaper can add some interest in your space. Also, stick down flooring is a simple, easy and inexpensive way to create the look you are going for in your laundry room.
GET ORGANIZED
Reduce all clutter. You'll have enough with the dirty clothes, alone!
Choose between open or closed storage. Laundry rooms need storage because they often act as a household's drop-off point. Include adequate storage in your planning. Items can be concealed in floor- to-ceiling wall cabinets. Cleaning agents and other accessories are easily accessible in cabinets above washer and dryer
Add an open shelf above your washer and dryer, for extra storage if cabinets aren't in the budget.
And bulk it up by adding some simple, inexpensive molding to the front
Everything has a place!
Create an easy to make ironing board hanger, to get your large ironing board out of the way.
Purchase a new cover for your board, in the same color scheme or style as your laundry room décor, to add some interest to the space.
Complete instructions for Ironing Board Hanger found
HERE
Or make a fun "Wanted" items board, for a creative way to keep your eye out for paired laundry items that go missing.
Finally:
Continue your home's decorating scheme into the laundry Room.
And make it "cute!"
Adding personal touches will make your "dreaded" laundry room, be a place you'll want to visit more often!
Here are some quick easy ways to freshen up the décor in your space.
• Add a floral arrangement. Flowers soften any room, and bring a fresh feeling to a small space.

• Find a great rug! Most laundry rooms have hard cold floors. Rugs help warm the space and make it more homey

• Find jars, baskets, and other cute containers to store everyday laundry items in. It will help "hide" clutter and keep things organized.
(Rug found at Home Fabrics)
Resource: iVillage.com
---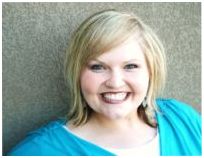 House of Smith's is a fun new blog my husband, Cason and I started in order to track the cosmetic part of our families progress on our home remodel and design style, shift! As a full time stay at home Mom of three beautiful girls and running a small business from home, I have found a new appreciation for the beauty and upkeep of my house! And as each day goes by, and a new project gets done the phrase "Love the Space You're In" becomes more and more meaningful to me!
I often try to find new fun ways to update, change, and decorate our "space" on a budget. There's something to be said about finishing a great project in your home, all on your own, looking back, and saying to each other… "WE did that !!!"
House of Smiths is a fun way for me to share, inspire, and learn from our new attempts at tackling projects on our very long list of "things to do!"
At the Smith house, our motto is… "Making a house, our HOME… one space at a time"
~Shelley Smith