It's super simple. Here's how it works.
Sign up
Commit to follow the 10 Pound Challenge "Health Code of Conduct (CLICK HERE to download)
Be entered in a drawing for fabulous prizes, including a NordicTrack Incline Trainer treadmill worth over $2000.
Enjoy FREE 24/7 support from Melanie and her team including daily video fitness challenges, meal planning, weigh-in monitoring… and more! This free support is offered via the Studio 5 "10 Pound Challenge" Facebook page.
Official Rules
Official start: Jan 6th, 2015.
Official end: Feb 9th, 2015.
To be entered in the prize drawings, complete your online registration by January 12th, 2015.
Helpful Tools to Keep You Motivated
"Like" the Studio 5 "10 Pound Challenge" Facebook page, where Melanie posts daily food and fitness tips and answers weight loss, health, fitness or nutrition questions. Melanie will give you a boost when you need it and keep you on track
Use the "Weight Tracker" tool on www.10pound2015.com to log your weight changes.
Participate in "Friday Weigh-ins" by submitting your weekly weight at www.10pound2015.com. Additional random prize drawings will be chosen randomly from the list of people who weigh in. This helps you stay on track and motivated!
Subscribe to Melanie's youtube channel to view her fitness challenges. As a subscriber, you'll get an email every time Melanie posts exciting new workouts.
About Melanie Douglass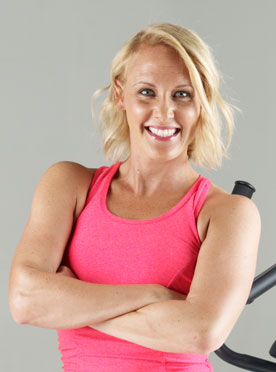 Melanie is a Registered Dietitian, AFAA certified group fitness instructor and personal trainer. She is an author, DVD instructor, international trainer, proponent of no-nonsense meal plans, and the creator of countless FREE workouts promoted and shared worldwide. Melanie and Studio 5 launched the "10 Pound Challenge" January 2011 with just a few hundred participants the first year. Now, just a few years later, the challenge has grown to thousands of participants with hundreds of inspirational success stories and a contagious positive energy that makes weight loss bearable… even fun.
Join Melanie this year, as she helps you kick start 2015 of with a powerful dose of heart-pumping motivation for a healthier, happier you!