Studio 5's Brooke Walker shares the story behind Modern Blitz Designs.
---
Kellie Treadway loves to design and she loves kids. It was her passion for both that prompted Kellie to start her own card company, Modern Blitz Designs. But she doesn't design cards to build a business. Kellie designs cards to build her family.
"I sometimes look at the cards I make and think, 'I wish that was my life,'" she said.
Will and Kellie Treadway met in October of 2003. They married the following year. Both wanted to start and grow their family. But the fairy tale future they imagined didn't happen.


"When we learned we struggled from infertility, I spent so many nights crying about it," Kellie remembers.
After a difficult year of fertility treatments, the Treadway's made the decision to adopt. But that decision came with a high cost.
"The Agency we first wanted to go with was $25,000," Kellie said. "They wanted us to have that money upfront which is very stressful, especially in this economy."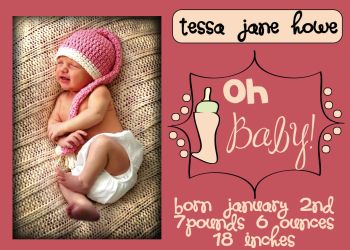 Kellie recognized there was not a lot she could do about the infertility. But she could design, specifically, baby announcements. So she set to work designing cards for other couples – helping them celebrate something she's hoping for herself.
"I can't control whether I have a baby, or when a birth mom will choose us or how long it will take," Kellie said. "But I can control how I feel and my day-to-day happiness and putting my creativity into something that can help."
So in a space that will one day be a nursery, Kellie puts love and emotion into every announcement, keeping close a visual reminder of what she's working for.
"I bought a little baby beanie," she explains. "I keep it by my computer and I just have it to motivate me to keep going because one day I will have a head to put in that beanie and I will have a child of my own to do an announcement for. In the meantime, I am just trying to push way in the most positive way I know how."
---
In addition to baby announcements, Kellie designs adoption cards, which she gives to hopeful parents at half cost. You can check out her designs at modernblitz.blogspot.com and read about her adoption journey at afutureworthlivingfor.blogspot.com