Ashley Kewish reports on new guidelines set by the American College of Gynecology and Obstetrics that will give more mothers-to-be a chance to have vaginal births after cesareans, or VBACSs.
---
The number of c-section deliveries in Utah has increased more than 40 percent in the last 10 years, but now that number is starting to go down throughout the state. Ashley Kewish sat down with OBGYN, Margit Lister and learned about the major "push" for surgery-free deliveries.
Ruth Jones has a baby on the way, and this time around she's hoping the delivery will go a bit different than it did with her first child. "I expected to have a vaginal birth, but didn't get that chance", Ruth says.
Ruth's son, Luke entered the world via c-section in 2007. "I think the first two days are the worst", Ruth adds, "because you're not only dealing with trying to take care of a baby, but you're also dealing with that scar."
Ruth is not alone.
Her c-section came at the peak of a booming trend, when cesarean deliveries accounted for nearly a quarter of all births in Utah.
"So everybody thought once a c-section always a c-section kind of mentality and we started moving away from operative deliveries where we would help a woman once she was complete", explains Dr. Margit Lister of Wasatch OBGYN.
That mentality makes c-sections the most common surgery in the state. A costly statistic.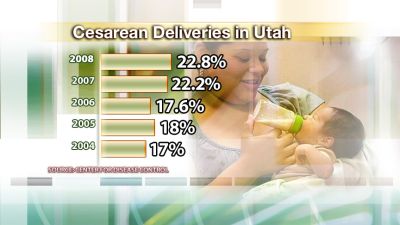 Dr. Lister adds, "The overall cost to the public is higher. Women that have a c-section are in the hospital for four days, where women have a vaginal birth are out of the hospital within 48 hours."
But now, things are changing.
"So the American College of Obstetrics and Gynecology said all should be offered a vaginal birth after cesarean", Dr. Lister explains, "and all women who have had two cesareans should be offered a trial of labor.
It's something Ruth is anxious to try.
"I'm excited and nervous at the same time because I don't know what to expect", Ruth says
So …what can an expectant mother expect when trying for a VBAC?
"We let them try to labor on their own", Dr. Lister explains. "We try not to induce them. We wait until the cervix is very favorable. Her success rate is pretty good, just like your success rate with your first pregnancy."
So as Ruth's March 3rd due date nears, she looks forward to the chance of having the delivery she's always wanted.
---
Dr. Margit Lister is an OBGYN with Intermountain Health Care. If you would like to schedule an appointment, visit: www.intermountainclinics.org.