Studio 5 Beauty & Style Contributor Holly Stone shares five mini changes you can make today.
---
Whenever we hear the statement "change your look", we often get overwhelmed with this possibility thinking it will require an entire overhaul. We associate this call to action with "new clothes, new hairstyle or new style" in general. However, changing your look can consist of subtle, simple ideas. And these changes will ultimately affect your Image.
Image is comprised of how you look and your body language and these featuresare constantly communicating even when you aren't speaking. When you think of Image as a form of politeness or etiquette, it takes it out of the realm of vanity or conscious of fashion and puts the focus on the people you meet and greet every day. By making subtle efforts to change to your look, you will notice that this can affect the way other people respond to you. You may even notice that you feel more positively about yourself. And when you are more confident, this confidence translates into everything you do.
There is Psychology involved in image cues. When you are aware of what simple "looks" can communicate, you increase your possibilities for positive results.
Mini Change #1: Wear Color
What this communicates: I am confident. I am creative.
Many of us choose the neutral black, grey or brown out of comfort or ease. These colors can often put us in a rut. Opt for a color, soft or bold: a raspberry or a fuchsia, a moss green or an emerald green, a steel blue or a royal blue. By adding color to your wardrobe, you show a little more confidence and can stand out as one who will get the job done, or add spice to the project, or even bring energy to a friendship. Wear color in your blouse, a jacket, a scarf or even in an eyeshadow. Just wear that pop of color to help your personality truly pop!
Mini Change #2: Wear a V-Neck
V-neck will flatter you most.
What this communicates: I am approachable. I am more open-minded.
Keep the focus on your bright smile and shinning eyes! A v-neck opens the line to your wonderful face and puts people more at ease in your presence. It is the most flattering cut to any face shape and creates a more open appearance. T-shirts are great but a blouse or button down shirt is even better. We put on ANY shirt on one arm at a time so make sure it is the shirt that will make you more confident and communicate openness to those around you.
Mini Change #3: Avoid the Ponytail
Avoid the ponytail or hat.
What this communicates: I care about myself, therefore I will care more about you or this project.
While a cute hat may hide a bad hair day, hats also hide your eyes. Ponytails are a very casual look. If you are going out to meet people, take a little time to style your hair. A few curls around your face, a quick round brushing with the hair dryer, a little pomade to smooth frizzies or a hair wax to create some texture, even a cute little clip to pull your hair off your face. If you put in a little time to the way you look when going out, it shows that you care about yourself, and therefore most likely will care more for the projects or people you are involved with.
Mini Change #4: Belt It
Have no doubt, belt it!
What this communicates: I pay attention to detail. I express myself.
Oversize clothing can appear sloppy. Belting is a fantastic option to help this. You cannot go wrong here. This is a new trend that makes a more loose fitting garment, more attractive and flattering. And ANYONE can do this. Belt a cardigan, belt a denim jacket, belt a simple t-shirt or button down blouse. Just pay attention to your waistline. If you have none, a medium-width belt is best. If you do have a waistline, a small or wide width is ideal.
Belts: Charlotte Russe $7.99-15.99, Forever 21 $4.99-9.99
Mini Change #5: Put on Your 5 Minute Face
What this communicates: I complete tasks. I am disciplined. I am responsible.
When you spend the time to put your best face forward, this speaks loudly to those you meet during your errands. You don't have to spend a lot of time making yourself up. Just follow these basic steps to a presentable you.
1) Spot cover with foundation
You aren't getting ready for a gala, just to go to a PTA meeting, the bank and the grocery store. Still, you never know who you may run in to or what you may need to accomplish. With a sponge, quickly cover the areas of your face that are uneven or stand out with redness. Only dab the spots, no need to cover entire complexion. 1 min.
2) Liner and Mascara on top lashes only
Remember we only have 5 minutes. Adding definition to the top lash line and lashes gives the eye a finished look to compliment your features. 2 min.
3) Lipstick
Lip gloss takes no time and little effort but can often look messy if not applied correctly or if the color stands out. Lipstick is more precise and will give you some longevity of wear. It visually communicates that you have discipline and can stay on task. 1 min.
4) Blush
A quick dusting of blush adds some radiance to your complexion. Apply on a high cheek bone. No need to be perfectly precise.
---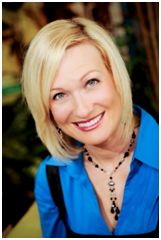 Holly Stone is no stranger to business and the beauty industry. Starting as a model at the age of 14 she decided that she preferred to be behind the scenes rather than in front of the camera. She choreographed fashion shows, selected models for events and assisted her agency with make-up.
Her skill for make-up artistry quickly became recognized and the demand for her talent launched a career that would take her all over the country. She received a bachelor's degree, and took a position as VP of Merchandising for Overstock.com. There she learned the business skills of resourcing, buying, marketing, and negotiating. She moved on to train in Los Angeles at AWARD, a leading make-up artist school in the west.
Today, with her business skills and her passion for the art of make-up, she manages a successful career as an educator and a veteran make-up artist of 16 years. She works in various media with actors/actresses, models, brides, and photographers. She is a consultant to several cosmetic distributors, spas, and salons where she teaches application and technique. She is a nationally recognized educator of cosmetic application and is a personal image consultant to people ranging from high position corporate figures to the every day woman.
Holly is the owner of Re-Creation Studio, School of Media Make-up Artistry. For information about her classes, visit www.learntodomakeup.com.