Studio 5 Contributor, Teresa Hunsaker, shows you how to create a fragrant smelling home for the holidays.
---
The line from the song that starts off with "It's beginning to look a lot like Christmas" makes us aware of how magical the sights and sounds of the holidays really are, and so are the smells. As many of you know smells can trigger so many feelings and emotions and even bring a sense of nostalgia and security. At the holidays it seems we all want to add to the "experience" by having our homes full of all of these things, but just how can we make the aromas in our home as equally inviting as the presents under the tree?
Here are a few things, short of baking, that will add to the overall "nose appeal" in your home this Christmas:
Cotton Balls
Soak a number of cotton balls in your favorite fragrance or essential oil. Squeeze out excess oil. Place in tea balls or tea bags and hang from hook in closets. You do not want the cotton balls to come in contact with wood—they will "eat" the finish on painted or sealed wood surfaces!
The metal tea balls can also be hung on the inside of a lampshade and the warmth from the lamp will diffuse the fragrance more abundantly into the air, or they can be placed in a small glass container and sat in an inconspicuous spot.
Simmering Potpourri
While it is possible to have a pan of simmering potpourri going on the stove, there is also small slow cookers that have been designed for just such a fragrance booster. Besides adding a nice fragrance to the air they also add moisture to a home—something really important during the dry winter months. Here are a couple of great recipes for your own homemade simmering potpourri, but you could also buy the fragrance of your choice at many local stores.
5 cinnamon sticks
2 tsp allspice berries
1 TBS whole cloves
1 cup orange peel
Zest of one lemon
1 apple sliced thin—no need to peel
Slice of fresh ginger
2 quarts of water
Place all ingredients in a medium sized sauce pan and simmer on low. Can add additional water as is becomes low. Discard the mixture after use.
2 tsp dried cilantro
2 tsp dried mint (or you could use mint extract or mint oil)
1 quart water
Place in a small saucepan on low, or in a simmer pot.
Some other ideas for simmering potpourris include:
A few coffee beans—these work fantastic in the more citrus or cinnamon spicy type potpourri
Vanilla oil or extract—great in with the coffee beans and some water
Almond extract
Herbs—bay leaf, basil, parsley, sage, rosemary, and yes, you guessed it, thyme
Smelly Jelly
"Smelly Jelly" has been around for about 20 years. It is something you can make from scratch or you can buy the water absorbing polymer crystals or even the decorator polymer "marbles" in the gardening section of home stores or many local craft stores.
1 pkg Knox unflavored gelatin
¾ cup boiling water
¼ cup cold water
Fragrance oils or essential oils (10 drops or more depending on desired strength)
Food coloring
Dissolve the gelatin in the boiling water. Add a few drops of desired food coloring and a ¼ cup cold water. Stir in your fragrance oils and pour into a jelly jar. Chill until set.
Once set you can decorate the jars by putting a doily or a circle of lace on the top with a ribbon around it. This allows the smell to permeate the air.
If giving it as a gift, you could add a tag that reads something like this…
This jelly has been made for you
In a store it can't be found.

So remove the lid, replace the lace
and let the scent abound!
(While this smells quite yummy, do not eat!)
Scented Pine Cones (and other earth elements)
Mix pinecones with some cinnamon sticks, whole juniper berries, and other dried foliage in a large sealable container. Add in a few tablespoons of your favorite fragrance/essential oil. Seal. Shake every day or two. Use after 2-3 weeks.
Cinnamon Ornaments
These ornaments are a great way to not only decorate the tree, but to add a yummy smell to the house.
1 cup cinnamon
1 TBS cloves
2 tsp allspice
2 tsp nutmeg
2 TBS glue
¾ cup applesauce
1 tsp apple fragrance oil–optional
Combine dry ingredients in a mixing bowl. Add fragrance oil and glue to apple sauce. Add the applesauce mixture to the dry ingredients. Mix well and roll out no thinner than ¼ inch thick. Use cookie cutters to form shapes. Place on waxed paper on a cookie sheet. Use a straw to make a hole in the top for hanging. Dry in a food dehydrator or air dry. Turn as needed.
Spice Bricks
3 TBS pumpkin pie spice
3 TBS apple pie spice
5-6 TBS applesauce
Mix well and form into small 1 ½ inch long by one inch wide bricks. Dry in oven at 250 degrees for 1-2 hours—until dry. Stack bricks in small decorative dish or basket, or place in a sachet.
Pomanders
We've used them for years, and they work very nicely—maybe it is time to put some together this holiday season.
Using oranges, lemons, and limes place whole cloves into the skin of the citrus in decorative patterns. Place in decorative bowls on your coffee table or hang with ribbon on some hooks around the home.
Wax Tarts
Any wax that melts can actually be used to make your own little wax tarts or melts—so beeswax, paraffin wax, soy wax, etc, or any combination of these. Slowly melt your chosen waxes, either in a double boiler on the stove in a clean can or on lower power in a microwave safe bowl, adding your fragrance/essential oil and pouring into mini-muffin tins or ice cube trays to harden. Then pop them out and store in a sealed container. If you have trouble popping the tarts out of the mold simply place in the freezer for a little while, then they should pop right out. For safety purposes I prefer the non-flame warmers.
Of course, Scentsy is one place where you can buy these fragrance "tarts". You can find a consultant/demonstrator near you by going to www.scentsy.net.
Sachets
Sachets are a great way to hold your dried potpourri for sweet scents in drawers and closets. Old hankies, doilies, lace, or fabric can be turned into fragrant smelling bags (sachets) to hang in closets or lay in drawers. Even paper envelopes can be used. I like to punch tiny holes in the envelope to allow the fragrance of the sachet to come through a little better. You can use a sewing machine without thread in it to sew a simple punched design around the envelope, or you can use a t-pin to punch your own holes.
When making dried potpourris for your sachet bags the first thing you will want to consider is some sort of "fixative" that holds the fragrance of your oils. This fixative is something like dried citrus peels, cellulose fiber, powdered orris root, cut oak moss, or small pine cones. Fixatives help absorb, release, and preserve the fragrance of your mixture. Without some kind of a fixative the life goes out of your potpourri mix very quickly. My preference is cellulose fiber along with cut oak moss and small cones. I am not fond of powdered orris root…not because it is not effective, but because of the powdery mess on things.
First, in a glass bowl mix about ¼ ounce of oil with a couple of cups of your fixative. Mix well and let stand for 15 minutes.
Second, prepare a brown paper bag or other large non-metallic container with any number of dried petals, leaves, seed pods, or dried fruit—apples, orange peel, etc., or dried flower buds, small cones, bark, chips, etc., about 12-14 cups. (See San Francisco Herb Company website for ideas on these additives… www.sfherb.com or Atlantic Spice Company at www.atlanticspice.com)
Next, add the fixative mixture to the potpourri mixture and place in an airtight container for 3-6 weeks before using.
Because essential oils and fragrance oils can harm wood and painted surfaces be sure to contain your mixture in sachets that will not come in contact with the wood.
Room Sprays
Sprays are a lot easier to make than people think. A cup of distilled water, a few drops of essential or fragrance oil and a spray bottle are all you really need. Some people like to use vodka or ethanol alcohol as a fourth of the water equivalent, but it is not absolutely necessary. There is also a great product called Polysorbate 20 that is terrific for making a solution that keeps the water and oil in suspension, and clarifies the mixture. It is found at most soap-making type places. (See: www.pinemeadows.net for one such place.)
Reed Diffusers
Reed diffusers have become very a much a part of home décor. The decorative bottles add great accents around a room and the reeds act like a wick, pulling fragrance up through them from the oils in the bottle, filling the air with wonderful aromas.
You can make your own by using real reeds, not bamboo or resin reeds, some fragrance or essential oil, and dipropylene glycol (DPG), a base which thins the oil and allows it to wick up the reed. Be sure to buy only fragrance grade, not industrial grade, dipropylene glycol. This can be found online at any number of candle/soap making supply stores… www.snowdriftfarm.com or www.myworldhut.com or www.brambleberry.com. Use a mixture that is 1 part essential or fragrance oil to 2.5 parts DPG fragrance grade. Shake gently to mix and place in bottle with reeds.
Chip Board or Heavy Weight Pressed Paper
Even old scraps of chip board can be used to absorb your favorite essential or fragrance oil and then placed in sachets or tea balls and hung around the house.
Scented Rice Hot Pot Pads
Using scented rice as the filler for setting hot pots and pans on is a great way to diffuse some fragrance out into the air. Simply add your favorite fragrance oil to a few cups of rice and seal in a plastic bag for a number of days. Then fill a fabric pouch with the rice—I like to make mine with "channels" to pour the rice into…then sew along the top to seal in the rice.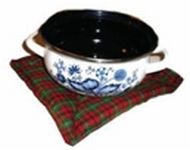 ---
If you have any questions, contact Teresa Hunsaker at the Family and Consumer Science Education Department at the Weber County USU Extension office at (801) 399-8203 or online at www.extension.usu.edu/weber