Natalie Stefanoff shows how to add character to glass furniture with a simple etching technique.
---
This table was $5.00 from D.I. and with a little turquoise paint and glaze, this table is an ultra unique piece that can't be found in a store.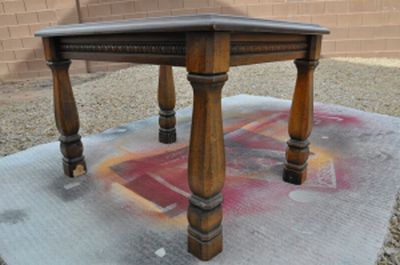 But, to add that EXTRA pizzaz, a super easy way to add character to glass furniture is to add an etching technique to make it amazing. As you can see in the picture below, the glass was plain, and I think it needed a little extra oomph to create a more unique piece.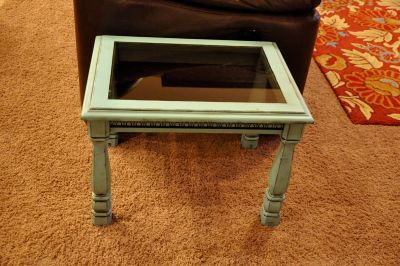 So I bought etching crème at Walmart for about $7.00, and started by creating a stencil of an image to etch into the glass. I got the image from a table cloth that I bought at Target. (I actually made the tablecloth into pillows).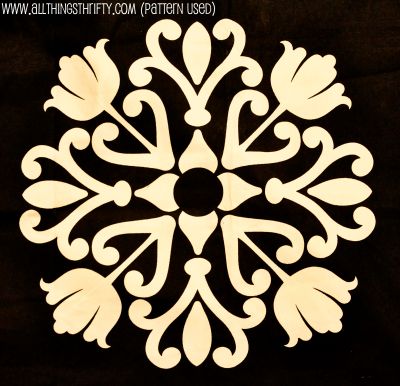 Step 1: Find an image you would like to use.
Step 2: Trace the image (using a sharpie marker) onto clear contact paper by laying it on top of the image.
Step 3: Cut out the image with scissors or an exacto knife
Step 4: Remove the back from the contact paper
Step 5: Place stencil you just created out of the contact paper onto the glass
Step 6: Follow the instructions on the etching cream and paint the glass with the cream.

Step 7: Wait desired time allotment (according to the instructions) and then wipe off.
Voila! The furniture is ULTRA unique.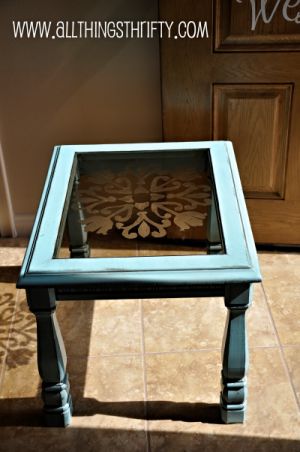 This technique can be used on mirrors also. It is such a fun way to create a subtle change to a piece of furniture and bring it up to date. Plus, if you don't want to commit to etching the glass forever, there are also temporary etching products available that will come off with acetone.
IF you have access to a circuit cutting machine, creating stencils is MUCH easier than using contact paper. All you need to do is use vinyl to create a stencil.
---
"All Things Thrifty" is a site to prove to you that decorating can be inexpensive. Check out more projects by visiting: www.allthingsthrifty.com.