Designer Tausha Hoyt shares her favorite ideas for festive jar fillers!
---
I know that we all love our apothecary jars! Sometimes, we just need a little bit of help when it comes to filling them up with unique, totally doable and CHEAP ideas. I thought that I would try and help you with this.
STAR of the show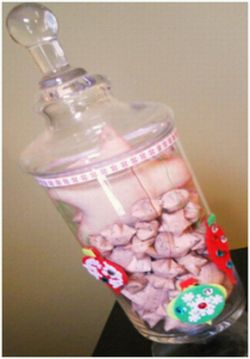 Your jars are sure to Sing when you use these fabulous star fillers from Pottery Barn. I know what you are thinking, Pottery Barn and cheap? Yep! These cute paper Mache music stars are only $12 for a box. Because the stars are somewhat on the small side, I just added some extra fillings. I thought it added a texture contrast, and something unexpected.
Pop, sparkle and shine!
I love my jars, don't get me wrong. Sometimes they fall a little flat. I wanted to add something that was simple to do, easy to take off and not too hard on my wallet. I added some stickers, ribbon, yard, paper and wire to my jars. Just a fun element that really makes them pop! I picked up some stickers at Joanne's in the Dollar bin. They stick right on the jars and they peal right off when you are ready to take the tree down. Use your imagination! Add some fun bling, or stickers that match your color scheme. Vinyl would also work.
Santa's Sweet Shop
Candy is a fun, festive filler for any jar. The unique part about this idea is the labels that you add to the jar. I found some peppermint sticks at the dollar store for only 69 cents apiece! I found the cute little peppermint balls in target's dollar bins and the red, gummy raspberries in the bulk foods. I added some labels that I purchased from Etsy. You can find them here.
www.etsy.com
I just taped my labels on, because I want to use the jars again for something else. If you don't need to use the jars again, go ahead and mod podge the labels directly to the glass.
Great Things Come In Small Packages…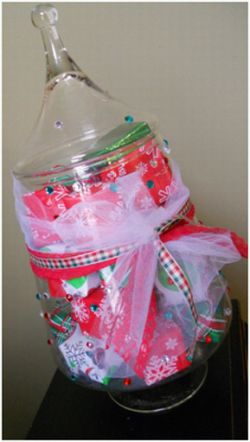 I wanted to use presents in one-I just didn't want to try and find tiny boxes that would fit in the jar. Then, I stumbled upon these ornaments at Big Lots. They are little Styrofoam squares-the perfect size! I just re-wrapped them with some fun Christmas paper and ribbon. It's easy and extremely inexpensive. The package of presents was only $3 for 18. I found some fun paper in the dollar bins at target. Your kids could help with this one as well.
Advent Apothecary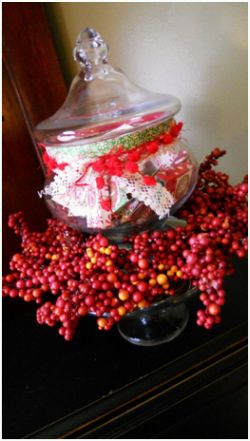 Tis the season for the Advent Calendar. I have bigger kids, so I wanted to do something that wasn't candy, but also was entertaining for everyone. Plus-I didn't want to have to make a new one every year.
I must admit, I cheated a bit on this one. I LOVED family fun's advent activities. I just downloaded theirs and cut them out. You can find the link for these on my blog. I used my handy, dandy cricut and some fun scrapbook paper. I cut out 3″ bags. (I used the plantain schoolbook cartridge) glued them together and paper clipped the activities inside. I needed numbers-so I searched for advent on this site and found these printable ones from Heartland paper. They are the perfect size!
You can find the numbers here.
studio5.ksl.com
I just added my activity bags to my jar and I was done. My kids are extremely excited about this. They can't wait until the 1st!
The KEY to a fabulous Christmas…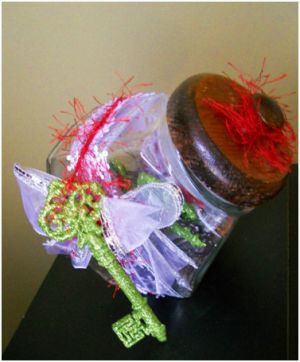 I love these super cute glittered skeleton keys from Wal-Mart. These are actually quite big and they are only a buck!! I added them to a little jar, along with some of my other funky, fabulous keys. A unique, yet fantastically festive filler!!
A new TWIST on an old favorite…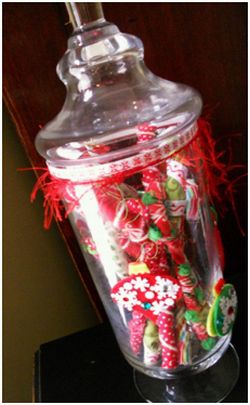 I LOVE fabric, but I can't sew! Because of this fact, I am always trying to think of other ways to use fabric—other than with a needle and thread. I loved these fabrics and knew I had to do something with them. I looked around and picked up some fake candy canes from the dollar store and some dowels and even a couple of pencils. I just wrapped them in strips of fabric and glued the fabric on. A fun, idea for a traditional treat!
Pull out your jars, go through your sticker stash, and go to town. It always helps the creative process if there is chocolate nearby!
---
If you want more details on how to make these fun festive apothecary jars and fillers, head over to my blog, sassystyleredesign.blogspot.com.