Terri keeps drink staples on hand – like frozen cubes of lime juice – that makes it easy for her to pour a drink that's something special. She shares three recipes, and her entertaining tips.
---
Pomegranate Citrus Sparkler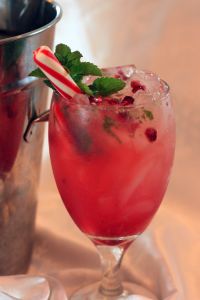 Makes 2-4 drinks
Juice of 2 limes
6-8 sprigs of fresh mint
Small ice cubes (enough to fill glasses)
8 oz. Cranberry juice or Pomegranate juice
¼ c Pomegranate seeds
4 cans 7up or Diet 7up
Peppermint sticks for stirring and garnish
Fill goblets ¾ full of ice add 2oz. Cranberry or Pomegranate juice to bottom of goblet. Add 1 Tb. Fresh lime juice
Put a bit of ice in a non-breakable cup or a mortar and pestle
Using scissors cut up 6-7 mint leaves into the ice and crush together with the ice.
(The ice helps to keep the mint in larger pieces while the crushing action helps emit the fragrance and taste of the mint into the ice.)
Add mixture to top off each glass.
Slowly pour 7up over the ice to fill glass.
Add Pomegranate seeds, sprig of mint and peppermint stick to garnish
Serve with a smile.
French Chocolate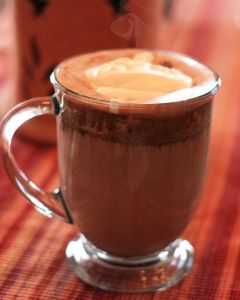 2 ½ squares unsweetened baking chocolate
½ C. cold water
1 C. sugar
Pinch of salt
1 C. whipping cream, whipped
Melt chocolate in water. Add sugar and a pinch of salt. Gently boil for about 4 minutes. Stir continually. Gently fold whipped cream into chocolate mixture. Chill. Put heaping tablespoon in serving cups and add hot milk.
Hot Tomato Drink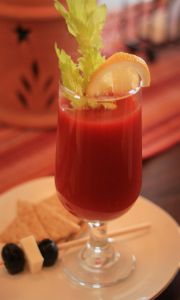 2 qts. Tomato Juice
2 Boullion Cubes
2 Cans Water (Soup Can Size)
2 Celery Stalks
Medium Onion
Bay Leaf
3 Tbl. Sugar
Juice of 1 Lemon
1 tsp. Worcestershire Sauce
Dash of Salt and Pepper
Combine and simmer ½ hour. Strain and serve hot.
---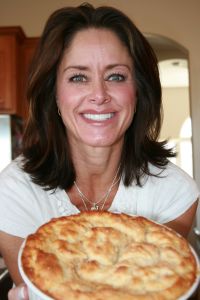 Terri enjoys being a wife, mother and hostess. She has a passion for cooking,
photography, Middle Eastern culture, and camels!
Terri makes her home in Cedar City, Utah. Find and follow Terri at:
www.abudhabicooks.blogspot.com