Brett Lund from Robert's Crafts shows how to get creative organizing your scrapbook supplies.
---
Supplies:
All supplies from Doodlebug Design unless noted.
• apothecary chest fashion furnishings
• collectable cupboard fashion furnishings
• craft cubby fashion furnishings
• craft cup fashion furnishings
• paper cube fashion furnishings
• Assorted colored buttons
• braddie keeper
• button keeper
• small ribbon keeper
• large ribbon keeper
• embellishment keeper
• Magnet Daddy, I-Top Imaginisce
• Cricut Doodletype cartridge
Instructions:
1. For the Jars, I took off the wrapper from the jars, and use them as a template. For the large jar, cut a piece of paper 2 ½" x 12″. Then cut another piece of paper 2″ x 12″. I used double stick tape and taped everything around the plastic jar. For the medium jar I measured a piece of cardstock 9″ x 21/4″. For the smaller jar, I measured a piece of cardstock 9 ¼" x 1 ¾"
2. For both the apothecary chest, and the collectable cupboard, you will need to cut the patterned paper at 5″ x 5″.
3. To install the patterned paper, reach inside the drawer, and unscrew the knob, pulling off the plexi-glass cover, put the piece of paper in the center of the plexi glass cover, and screw the pull knob on the front of the drawer.
4. For the paper cube, I attached some cork squares to the side of the holder gluing the cork squares to the wood. For the push pins, I used the magnet daddies from Imaginisce, and glued them to the head of a push pin.
5. On the craft cup, take out the plastic and cut a piece of paper to fit around the cup. Replace the plastic in the inside of the cup.
---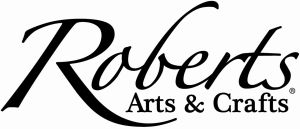 For more craft ideas go to: www.robertscrafts.com