Pioneer Party shares 7 unique gift ideas for graduates that won't break the bank.
---
1. Dynamite Grad: A package of Pringles potato chips, wrapped to look like a dynamite stick: "Congrats on a dynamite accomplishment!" We've added "2010 Grad" and words like "explode" and "TNT" as well as a "To/From" tag. Use double stick tape to wrap your paper around the Pringles, and use a glue gun to add the fuse (pipe cleaner)! Creative and inexpensive! Buy this at our store in your choice of colors to match the graduate's school colors.
2. Awesome Accomplishment: A six pack of AW root beer (or a liter) with a tag that reads, "What an Awesome accomplishment! Congratulations Graduate!"
3. We've assembled a "Graduation Survival Kit" or as we call it, "How to Survive Graduation." Includes: water bottle (remember to continually thirst for knowledge), Gum (Stick to your goals and dreams), Tissue (Wipe your tears – out with the old, on with the new!), Penny (start saving now to pay off student loans), Lifesavers (To stay afloat during the next few years). Congratulations and Good luck! You can easily make this into a bigger gift, giving items that the graduate might actually take to college with him or her. (Available in our store)
4. Grad Journal Jar: We've typed up over 50 questions for the graduate to answer: the idea is to pick a question a day and write down the answer to it in a journal. When all the questions are answered and the jar is empty, the graduate will have a complete history of their life in high school! (Available in our store)
5. Money Lei: For the graduate you might want to give a little more to: this is definitely unique and will be the talk of the ceremony! Instructions on how to make this are on our blog:
6. Candy Bar Wrap: We've wrapped up a giant size candy bar with scrapbook paper and added a tag that says, "You deserve CHOCOLATE for a job well done! Congratulations graduate!" Simple, easy, inexpensive!
7. PayDay Bouquet: We've assembled a bouquet with payday candy bars, gold coins, and 100 grand bars… all stuck in a mason jar. The tag says, "Payday is finally here! Congrats grad!"
8. Grad Door Cover: We have the ability to personalize a door cover especially for your grad! Order yours today to make your graduate really feel special!
3 Quick Teacher Thank You Gifts:
1. PUDDING: "Thanks for 'pudding' up with me this year! You're awesome!" We've used a 4 snack pack of pudding (the generic brands sometimes actually say "pudding" where the JELL-O brand doesn't say it as big)
2. BAG OF CHIPS: "To a teacher who's all that & a bag of chips!" Try and get a bag of chips that is unique: a different flavor or a bag that looks a little more "gourmet!"
3. M&M's: "To a teacher who is Most Marvelous!" We've put the M&M's in a clear favor container, which just dresses up the whole gift.
---
All of these ideas are available in-store at 154 West Main Street, Lehi, UT.
Just come by or call ahead to order!
We're open 8-7 Mon-Fri and 9-7 Saturdays
801-768-3549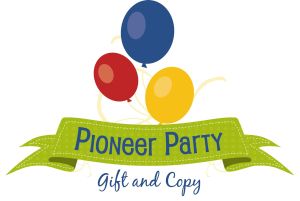 www.pioneerpartyandgift.blogspot.com