Check out some of the many ways that Karen Demas has discovered more use from Smooch Paint, Sprays and Tattered Angels Glimmer Mists.
---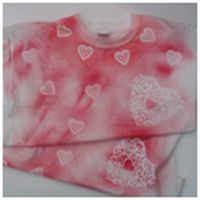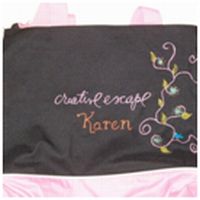 Figure 1 Figure 2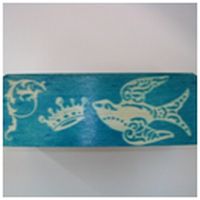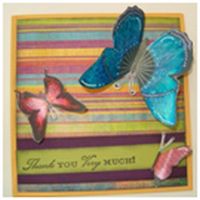 Figure 3 Figure 4
Products used:
• Smooch Paint
• Smooch Sprays
• Tattered Angels Glimmer Mists
• Tattered Angels Glimmer Screens
• Prima Stencils
• Tim Holtz Masks
• homemade patterns
Wooden Tissue Box (Figure 3):
Using a Tattered Angels Glimmer Screen along with the Glimmer Mist spray, we've turned something ordinary into something extraordinary. Simply place the screen where you'd like and spritz away. Once the screen is removed, you will have a silhouette of whatever your screen was. To save the design for an unlimited time, be sure to Mod Podge your entire project once you've completed it.
Quilting:
We've taken some of all the screens that we've liked (as well as created our own using chip board and an xacto knife) and the Glimmer Mist to fabric. Using the same technique as above, we are creating quilt squares to be placed within a quilt. A wonderful way to make something completely and uniquely yours!
Canvas Picture Frame:
Take a canvas picture frame. Add some Smooch Spray while using some Prima Stencils of your choosing. You'll turn your picture frame into a masterpiece!
Canvas Tote (Figure 2):
Use some Smooch Paint and some basic tole painting skills and you've got a one-of-a-kind accessory for any event. This is perfect for Valentine's Day (or any holiday for that matter…) Smooch Paint is easy to use and leaves a bright color wherever you'd like.
Thank You Card (Figure 4):
We've taken a stamped image and then used Smooch Paint to bring it to life. A very fun and cool way to use those many stamps you currently have stashed in your closet!
T-Shirt (Figure 1):

Using a screen as well as Smooch Spray, we've covered this tee in hearts galore. A very simple way to show others your creative side. Simply place the screen, spray the Smooch, allow to dry and … presto… a fun and unique clothing apparel!
Coffee Filter Flowers (Demo on Studio 5):
Take several ten-cup coffee filters and spray with Smooch Sprays. Once dry (a few minutes…) cut flower shapes from the middles. Now take your flower shapes and crinkle them in your hand. Once they are nice and wrinkly, layer them together to make your desired flower blossom. Use a brad through the center to keep your flower from losing it's petals.
Hair:
Now this one is stretching it just a bit. We must warn you that you do this at your own risk. We've applied Smooch Paint directly to our hair and have loved the look, or should we say looks…
---
Interested in seeing more fabulous ways to think out of the box with your products? Join us each month for our Product Playground where we play with the products!! It's a great way to try it before you buy it!
Check out our website for more details: www.heartfeltpages.com

407 West 9000 South | Sandy, Utah 84070 |
Phone: 801-233-9028 | www.heartfeltpages.com