Studio 5 Beauty & Style Contributor Holly Stone shows us five ways to go "glitter glam."
---
Sparkle! Shimmer! Glow! Bright! Shine! Any way you wear it, any day of the week, any one of these elements can add a festive feeling to this season. Here's how:
Sparkle: Sequins for beginners or pros
You don't have to be going to a ball to wear sequins. This is the PERFECT season to wear this embellishment because 1) it is the Holidays 2) it is THE fashion trend. By adding an element of "bling" to any piece of clothing, you can explore a whole new world of self-expression. For those who have never tried it and think it is "too fancy", try wearing a tank with subtle sequins design (Express $29.99) under a jacket so that just a little peeps through. For the pro, wear a full panel sequins top under an open sweater (Express $34, $39.99) for a more bold statement but then pair with jeans to keep it casual. Carry a sequin clutch for a night out (Express $19.99). T-shirts with sequins design are a great way to explore this option. (Express $19.99-29.99) No matter the occasion, anyone can wear sequins. Not only can it dress up your appearance, it just might dress up your mood.
Shimmer: The subtle accessory
For those who want a more subtle approach of adding "bling", opt for an accessory that has a subtle shimmer that can be seen when the light catches it just right. Shimmer is achieved with a smaller particle than sequins so the effect is different. A soft scarf (Nordstrom Rack, Express $17.99-22) with a shimmer thread woven throughout will add brightness to your face. A slim belt (Burlington Coat Factory $12-18) worn at the waist can add a "peek" of light worn over a thin sweater and under a vest.
Glow: Gloss and Bronze
The best quality holiday deal I have seen yet comes from the make-up artist line Stila. Sold at Costco for $13, this kit includes a full size mascara, eyeliner pencil, lip glaze (sold at Sephora for $19 by itself!!!), bronzer and kabuki brush. Gloss on the lips adds a delicious pout that is sure to capture attention under the mistletoe. Bronzer on the cheeks, forehead, and chin adds a sensuous glow that will warm up the winter blues.
Bright: Holiday colors-not just red and green
Simply wearing a holiday color could put you in the festive mood. Beyond the traditional red and green, consider gold, silver and royal blue as holiday color options. Splurge on a festive set of metallic bangles for some holiday jingle. (Forever 21 $9) or select a sweater in a holiday color you don't normally wear. (Old Navy $19) Mixing up your wardrobe gives you a new feeling and allows you to explore different facets of your personality. Color and light are also proven to brighten a mood.
Shine:Glitter glam
This summer, Glitter sparked shiny toes around the world. Ranging anywhere from $45-60 dollars a pop, this trend inspired the girl in many. Now you can do glitter fingernails in the comfort of your own pamper room. Create any design from presents, to stars, candy canes to ornaments-or just give your nail tips a festive feel. This is an inexpensive way to add shine in a small way. Doing glitter nails with your teen or toddler provides a great opportunity for a holiday activity. Simply apply a coat of Gelous Nail Gel Coat (Sally's Beauty Supply $6.99) to desired area. Apply gel with an orange stick to create designs. Then sprinkle a craft glitter color of your choiceover the nail (Roberts Art glitter $3.99). Let dry. Apply another coat of Gelous over top of glitter. This product dries quickly and in no time-Voila! The shine of your authentic design adorns your nails like a homemade ornament.
---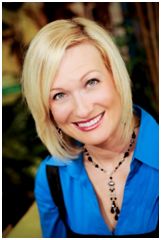 Holly Stone is no stranger to business and the beauty industry. Starting as a model at the age of 14 she decided that she preferred to be behind the scenes rather than in front of the camera. She choreographed fashion shows, selected models for events and assisted her agency with make-up.
Her skill for make-up artistry quickly became recognized and the demand for her talent launched a career that would take her all over the country. She received a bachelor's degree, and took a position as VP of Merchandising for Overstock.com. There she learned the business skills of resourcing, buying, marketing, and negotiating. She moved on to train in Los Angeles at AWARD, a leading make-up artist school in the west.
Today, with her business skills and her passion for the art of make-up, she manages a successful career as an educator and a veteran make-up artist of 16 years. She works in various media with actors/actresses, models, brides, and photographers. She is a consultant to several cosmetic distributors, spas, and salons where she teaches application and technique. She is a nationally recognized educator of cosmetic application and is a personal image consultant to people ranging from high position corporate figures to the everyday woman.
Holly is the owner of Re-Creation Studio, School of Media Make-up Artistry. For information about her classes, visit www.learntodomakeup.com.