---
The Kodak Easyshare M530 Digital Camera was introduced at the 2010 International Consumer Electronics Show and hit the market in February. This line of cameras promises ease of use for consumers.
Phil Scott, Vice President of Marketing, Digital Capture and Devices at Kodak said, "In a world where people are sharing online more than ever before, Kodak wants to make it as simple as possible. You simply press the Kodak Share Button to tag the pictures on the camera and they automatically email or upload to your favorite sharing sites when you connect to a computer. We designed our new digital cameras to give consumers an easier and more intuitive way to share and relive their moments when they want, where they want and how they want."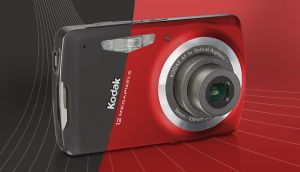 Kodak Easyshare M530 Digital Camera
Features:

12 MP

3X Optical Zoom Lens,

2.7-inch bright LCD with KODAK color Science technology Available in Red, Green, Blue, Orange and Carbon.
Human Lab Test Panel
Tonya Ahlquist: loves taking pictures with point and shoot but rarely prints them, and stores most of her pictures on a disk or in the camera.
Celeste Grover: Experienced photographer (www.celestegrover.com) professionally develops photos, Digital Scrap booker, mommy blogger.
Merrit Denison: Photography hobbyist, has owned various point and shoot cameras, keeps photos organized on her laptop.
Rating System:
1 = Don't waste your money.

2 = Like it, not a "must buy".

3= Really like it.

4 = Love it! definite "must buy"
Tonya: Overall rating is a 3
Pros: Easy Right out of the box

Cons: Bit of a learning curve for all the features
Celeste: Overall rating is a 3
pros: EASY to use – no hassles. Not a lot of buttons to mess with

cons: Video quality is not that great.

Action shots aren't captured very well. Still kind of blurry. Even when I used the action mode.
Merrit: Overall rating is a 2
Pros -Great price

Loved the Easyshare feature

Cons -Incorrect tagging (it doesn't tag people correctly – more hassle than it was worth)

Lots of bells and whistles, but it wasn't much better than any other point and shoot
---
To find out more about the new Easyshare Digital Cameras go to www.kodak.com