The delicious taste of Mexican shredded beef is easy to get with your Instant Pot!

Leigh Anne Wilkes shares the simple recipe for some yummy tacos.

Mexican Shredded Beef
3-4 lb. chuck roast cut into 2 inch pieces
1 Tbsp chili powder
1 1/2 tsp sea salt
1 Tbsp olive oil
1 cup onion diced
2 Tbsp tomato paste
6 garlic cloves diced
1 tsp cumin
1 tsp Mexican oregano
1/2 cup picante sauce salsa
1 cup beef broth
cilantro for garnish
limes to squeeze over top

1. In a bowl, combine cubed meat with chili powder and salt. Toss to coat.

2. Press the "Saute" button on the Instant Pot and add the olive oil.

3. Add in onions and saute until softened.

4. Add in tomato paste, garlic, cumin and Mexican oregano. Stir for about a minute.

5. Add in seasoned meat.

6. Pour in salsa and beef broth.

7. Cover and lock the lid.

8. Press "Keep Warm/Cancel" on the Instant Pot and then press the "Meat/Stew" button to switch it to the pressure cooking mode. Set cook time to 35 minutes.

9. Let the pressure release naturally.

10. Unlock lid and remove meat. Shred with two forks. Use leftover liquid as a gravy if desired.

11. Add any additional salt and pepper if needed.

12. Top with chopped cilantro and a squeeze of fresh lime juice.

Slow Cooker Instructions
1. Brown meat before placing in slow cooker.

2. Cook 4-5 hours on high or 6-7 on low in slow cooker.

Find more yummy recipes from Leigh Anne on her website www.yourhomebasedmom.com.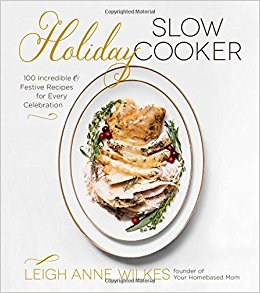 Click here to find Leigh Anne's book on Amazon!

---
Studio 5 has affiliate relationships, so we may get a small share of the revenue from your purchases. Items are sold by the retailer, not by KSL. All prices are subject to change.