Studio 5 Beauty & Style Contributor Holly Stone breaks down the style of smell…and reveals how to make your man the Old Spice man.
---
You start with a man in a bathroom, next he is on a boat, then on a beach holding concert tickets, then diamonds, then sitting on a horse. The Old Spice commercials are random and whacky. The point? A scent can instantly trigger ideals, memories, associations, and emotion. Although individual reactions to the EXACT same scent will vary, these triggers have potential to motivate action.
To smell or Olfaction is one of 5 basic senses. Not only is it necessary for our sense of tasting flavors, there is an important link between olfaction and behavior. Aromatherapy dates back to the time of Cleopatra and relates essential oils to therapeutic benefits on the mind, body, and spirit. Aromachology is a newly developing science which seeks to measure the effect of odors on behavior. With millions of odors, we subconsciously select certain odors and then create associations. This fragrance psychology is a driving force of the Fragrance industry. The goal? An impulse purchase evoked by an association. And it is paid forward by the wearer of the fragrance to those who enjoy his scent. It is nose to nose advertising and the effects are powerful.
Studies have shown that men have distinct associations with the following top 5 scents:
1) Leather
A new car, a leather sofa, a leather jacket. All relate to luxury. All aspirational. A man that is working hard may have a desire for the "finer things". This association motivates a belief that "I can achieve"
Holly's Product Pick:

John Varvatos, Sephora, $58.00
Rustic notes of leather essence, Indian Ajowan, and Auramber.
2) Fresh Cut Grass
Green and woodsy. From the Earth and back to roots. Those who enjoy the outdoors often makerelations to relieving stress, heightening mood and awareness. In an article titled "Improve Your Memory" by Amy Capetta (aolhealth.com), it was reported: "after years of research, neuroscientists at the University of Queensland, Brisbane, discovered that the scent of fresh-cut grass triggers two sections of the brain."
Want to improve your memory? Go mow the lawn. Or try:
Holly's Product Pick:
L'Eaud'Issey Pour Homme, Sephora, $58
Woodsy Cypress, Cinnamon Bark from Ceylon, Amber Tobacco, and Sandalwood
3) Vanilla
Fresh baked cookies. Apple pie. Mom. Vanilla is the scent of comfort whether in food or relationships. It draws you in to a safe place and relaxes tension. You might just have the desire to cuddle up.
Holly's Product Pick:
HM by Hanae Mori, Sephora, $55.00
Hints of Vanilla, Lavender, and Chocolate.
4) White flower
Men and flowers? Not usually, but the association with white flowers and purity is common to all. Purity can represent a new beginning, a fresh way of thinking, or just absence of chaos. With the fresh scent of Jasmine, Gardenia, or Lily you may get a boost in the form of inspired creativity or a desire to de-clutter a room or your mind.
Holly's Product Pick:
Aqua di Gio by Giorgio Armani, Sephora $45.00
Jasmine, Neroli, Rosemary, and Nasturtium
5) Citrus
When you think of household cleaners, what are the most common scents? Lemon, orange, lime-all citrus. We think "clean" when we smell these. And for a man, clean is as masculine as you can get because it can't be misinterpreted for anything more than what it is-JUST CLEAN!
Holly's Product Pick:
Gucci by Gucci, $47.00
Grapefruit, juniper, berries and fig.
Fragrances can bring out different personality characteristics. Look for the fragrance characteristics thatbest your man best and make him your aspirational OLD SPICE MAN.
---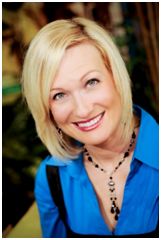 Holly Stone is no stranger to business and the beauty industry. Starting as a model at the age of 14 she decided that she preferred to be behind the scenes rather than in front of the camera. She choreographed fashion shows, selected models for events and assisted her agency with make-up.
Her skill for make-up artistry quickly became recognized and the demand for her talent launched a career that would take her all over the country. She received a bachelor's degree, and took a position as VP of Merchandising for Overstock.com. There she learned the business skills of resourcing, buying, marketing, and negotiating. She moved on to train in Los Angeles at AWARD, a leading make-up artist school in the west.
Today, with her business skills and her passion for the art of make-up, she manages a successful career as an educator and a veteran make-up artist of 16 years. She works in various media with actors/actresses, models, brides, and photographers. She is a consultant to several cosmetic distributors, spas, and salons where she teaches application and technique. She is a nationally recognized educator of cosmetic application and is a personal image consultant to people ranging from high position corporate figures to the everyday woman.
Holly is the owner of Re-Creation Studio, School of Media Make-up Artistry. For information about her classes, visit www.learntodomakeup.com.