Studio 5 Contributor Susan Neal has fun and "manly" ways to make your own gifts and cards that are sure to impress any dad!

---
Welcome to the no-frills zone. That's right, we're paper crafting but there isn't any bling, buttons or blossoms! These sweet details are part of the joy of our hobby, but I know and you know that the men in our life will simply NOT appreciate them.
Details, however, are still key to a memorable project, even if it's a man card. The trick to finding masculine details is to visit the one place all men love; the hardware store. Or even just their workshop, junk drawer or tool shed.
These hardware details add dimension, weight and are generally very inexpensive. If you have the time, meander the hardware store aisles or let me save you the time with my great hardware finds!
This may be my favorite…this huge roll of vent screening is about $8, but you get a ton and you can split with some friends. It's lightweight, flexible, cuts easily with scissors or a trimmer and adheres easily.
I've used it to layer over some patterned paper on my Father. Mentor Frame. I adhered it by placing my tape adhesive all around the edges. You can't even see it.
I also wrapped it around the candy jar. Adds something without hiding the candy.
Slightly Nutty Candy Jar
I picked up this huge jar for a few dollars at Ikea and the biggest bag of Peanut M&Ms at Costco for this Father's Day treat that is sure to please.
I used some letter decals from the sign department to create the "DAD" on the lid.
I used another fav-find (aluminum tape) to edge my vent screening before I wrapped it around the jar.
Use a mirror hanger (also called a ring hanger) to attach the tag to some wire that I wrapped around the top of the jar. That's FIVE items from the hardware store to create this project. You can make your own custom tag or download mine for free here.
Father, Mentor Frame
To create this friend, I covered a wooden frame (Roberts Crafts) with my favorite Man Collection…by My Mind's Eye. Oddly, it's from the Quite Contrary line, but you can see all the great manly patterns here. I'll be giving this great product away on my blog, so be sure to visit.
"Father. Dad. Friend. Mentor" is also available for a free download. After I adhered the paper, I sanded the edges of the frame, sponged brown ink along the edges and found the perfect picture!
10 Reasons Quick Link Mini Album
This is a great project to make with your kids. If they're too young, you could make it for them and they can write or draw their 'reasons' themselves.
I used a large Quick Link and wrapped paper around it to create an little album.
Cut one 2″ x 9 ½" piece of colored cardstock for the cover.
Cut two 1 ¾" x 8 ½" pieces of white cardstock. Line these up together (the white will be shorter), thread through the quick link, fold a little at the top, mark and punch four 1/8″ holes.
You may need to punch half at a time to get through all the thicknesses.
Attach the album together with silver brads.
Cut two 3 ½" x 1 ¾" pieces of white cs and adhere to inside of the front and back cover. These will be 2 pages of the 10 total.
Download the title or make your own! You could prepare your 'reasons' on the computer as well if you didn't want to write them. You could also add little pictures.
I also thought this could be a fun Father's day gift from the 'wife'. Change the number 10 to however many children you have, ei: 5 reasons why I love you Honey. Have a picture of each of your children on each page with a little summary of that child.
Measure of a man Gift/card
Here's a super easy Hardware store gift card.
I found a mini measuring tape for $2 and simply attached the card and tag through the key ring. Just download the sentiment, adhere to a little black card and punch a hole in the top corner. I love this quote.
Rough & Tough Card
Everyone has Sandpaper and felt at home, right? I used a premade title from My Mind's Eye and then added the rest of the sentiment with my computer.
I've been using Furniture nails for years now. They are a great way to change up the typical brad. Mind you, these are nails, so you have to cut the nail part off.
My advice? Hold the tack down into the carpet when you cut if, otherwise it'll go flying and scare the cat.  It does take some muscle to cut the nail part off, so ask someone with them if you don't have them.
I secure them with Pop-up Glue dots.
Also, cut your sandpaper with an old, about-to-throw-away blade, as it will ruin it.
A Good Dad Metal Card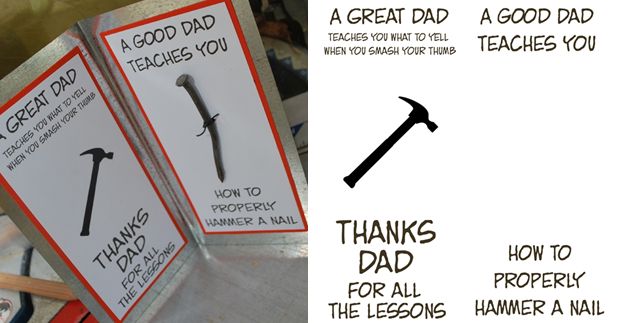 This card is only funny if 'dad' tends to cuss a bit when he hurts himself. I found these awesome stand-up metal 'cards'. It's a galvanized Step Flashing that measures 8″ and each panel measures 4″.
Just print out my free downloads and mat on cardstock. I found a bent nail and attached it the paper with some wire (through some mini holes). Adhere to metal 'card'. Done! Each flashing costs approx. .50 cents.
Absolute Dad Rule Card
I found this Steel Conduit Locknut and knew it would be perfect as a frame. This really adds some weight to the card, so I backed the card with some chipboard.
This quote was perfectly matched to this picture of my crazed husband tending to the toddlers. If you don't have a similar picture, don't use the quote, as it's not funny otherwise. The first few years are the best!
Tie Place Mini Album
Tie plates are used for construction to 'tie' 2x4s together. They are work perfectly for a mini album. All those wholes are just begging to be attached together with key rings or wire.
They also work well for attach screws. These are screw brads by Making memories.
Make sure not to cover the plate up entirely, so you can see the metal. Each plate costs around .80 cents.
Generations Frame
I used a product called gutter guard and layered it over a cardstock altered wood frame. It adds a lot of texture and manliness to the project.
Don't forget you can download either the PDF for ready to print format or the Jpeg to create most of these projects quicky and easily.
http://myeyeqdownloads.shutterfly.com/
---
You can check out more of Sue's creative ideas at www.sueneal.blogspot.com