Bree Phelps with the blog "Chikkaboom" shares unique ways to decorate using a season staple.

---
Christmas is one of our favorite times! The baking, the presents, being around family…. but really we think the best part is DECORATING!
So this year we challenged ourselves with different ideas for decorating with ornaments! First of all we have to give a moment of silence for the love of vintage ornaments! Whenever we go to a thrift store it is a race to see who can find the "catch of the day!"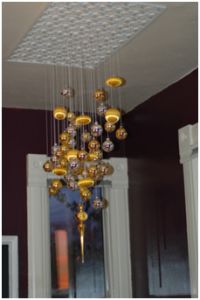 Who says ornaments have to hang from the tree? We turned that idea upside down – literally! – with this ornament chandelier. Festive, funky and fun, this project will have all of your dinner guests talking.
One thing we have loved is grouping things by color. When you group by color it shows off the ornaments themselves, and brings your eye to the shape and texture of each precious gem! Be brave, find things of the same color and group it together, add a few bulbs and lights, and voila!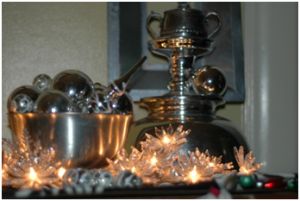 We have also tried to come up with using items that wouldn't be thought of as ornaments. To name a few…keys, dishes, old cards, numbers, chandelier crystals, frames and clip art from magazines- the list is endless, anything you love!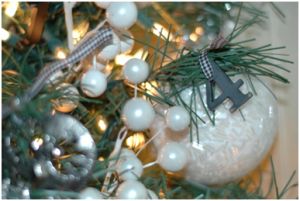 Were constantly working out the right part of our brains to come up with new ideas! Our hope is to inspire you to make your home Merry and Bright!
---
This last year we started our decorating blog CHIKKABOOM, it has been so much fun. It all started like thirty years ago when our fabulous mommy had her first girl. Then another girl and another so on and so forth (our poor lonely brother!) She taught us to make our environment beautiful and in turn you feel beautiful inside!
Check us out at www.ChiKKaBooM.blogspot.com