Blogger Michelle Lunt with Faith, Trust & a Little Pixie Dust shows how to make cute totes, perfect for dance or music class.
---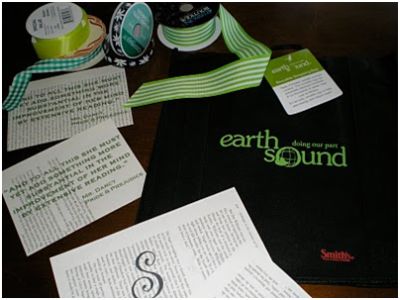 Before I came up with the dance/music class bags, I first created bags for my book club friends. These directions are for the book club bags, but you can change the details to fit dance or music class bags.
I started out with these black "reusable grocery bags
you find around town.
Mine were 99 cents at Smith's grocery store, but
Michael's Craft stores also have them. If you don't have either
store, I've heard you can purchase the bags on the internet.
I took some pages out of an old, damaged book
(no judging please! Ha ha!) and ran them through
my computer printer to print the monograms.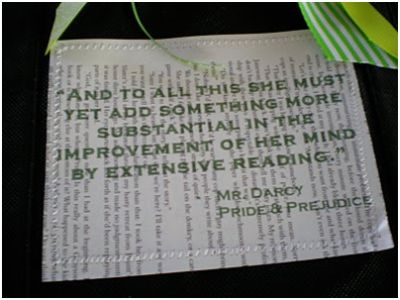 Opposite the side with the monogram, I added the above
quote from Pride and Prejudice.
I zigzagged the book pages on the bags with my sewing machine –
carefully covering the "Smith's" logo.
There is also a red logo on the right bottom corner,
but it's too low to sew on the ribbon.
I used fabric glue to affix this strip of ribbon on the bottom.
I found some of my ribbon at the thrift store! Wahoo!
The rest is from Hobby Lobby & Michael's Craft stores.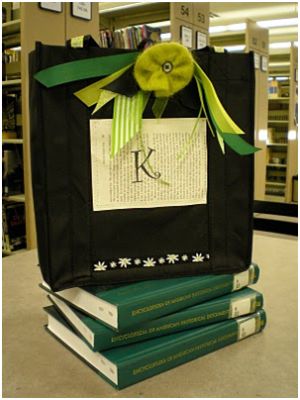 I only had one rule on the ribbon–
it had to be green. Any hue, any value!
I think it works!
I sewed ribbon on the handles & tied ribbon on the side
with a sweater flower or fabric flower for extra embellishment.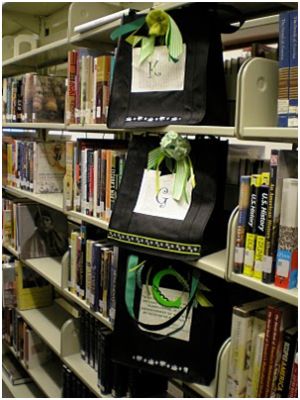 Each bag is unique, like my beautiful buddies.
---
Check out more of Michelle's Do It Yourself Projects at michellelunt.blogspot.com