Studio 5 Beauty & Style Contributor Holly Stone breaks down the best bets for restoring tone, radiance, elasticity and color to your skin.
---
As you look for skin care products, it is important to identify the benefits you expect to achieve as a result of using the products. Most products are either preventative or corrective and the active ingredients are designed to deliver results accordingly. When you have lost the skin you love and you are looking for a way to improve your skin, generally you should be looking at products with more corrective action. So how should these products perform and what results can we expect? Here is a list of my recommended products for restoring radiance and color and rejuvenating elasticity and tone.
Tone (how firm your skin is) and elasticity (how taut your skin is) refer to two components of your skin-collagen and elastin. They work interchangeably like fibers in fabric to form the supporting matrix of your skin.
Collagen is a protein which functions much like a mattress within your skin. When we are young, we have a plump "bounce" to our skin. But as we age, the springs of the mattress wear down resulting in saggy skin.
Elastin is alsoa protein that gives flexibility to the skin. Just like an elastic band begins to lose its memory the more it is stretched, the skin's ability to repair these proteins is weakened as we age. The result is the skin becomes thin and wrinkles develop.
Radiance and color can be achieved with anti-oxidant support and exfoliation.
Things you can do to deter the breakdown of collagen, elastin and radiance:
1) Wear a sunscreen daily. The sun penetrates the skin to the cellular level and prematurely ages the skin rapidly destroying collagen.

2) Eat foods rich in anti-oxidants or take a vitamin C supplement. Free radicals work hard to destroy the connective fibers of the skin and make the skin appear dull. An antioxidant used topically AND taken internally provides support against free radicals.

3) Drink plenty of water. Dehydration results in the deterioration of supportive functions within the body. Wrinkles form quickly as a result of dehydration.

4) Exfoliate the skin 2-3 times a week. When dead skin cells are on the surface of the skin, they reflect light in different directions resulting in a dull complexion. Remove dead skin cells and radiance is improved!

5) Use products that stimulate the production of collagen and elastin
Holly's Product Picks:
Oil of Olay Regenerist 14-Day Skin
Intervention(Target $21.49)

Significantly firm and reduce the appearance of wrinkles—and create the look of a complete skin turnaround resulting in a more lifted look in just two weeks
Microdermabrasion(dermatological clinics everywhere, $35-65)
A tried and true, highly effective non-invasive treatment. For the person who is not ready for chemical peels but wants the corrective action of exfoliation.
More powerful active ingredients when treatment is done at a clinic as opposed to over-the-counter remedies. Removes dead skin cells and stimulates skin tone with topically applied exfoliation particles and radiance-enhancer creams or serums.
Lancôme Renèrgie Lift Volumetry(Nordstrom, $88See a dual action lift for a volumetric result
• Lifting Action: skin looks lifted, feels firmer.

• Contouring Action: within four weeks, lost volume is visibly restored for defined cheeks, jaw line and contours.
Neutrogena Ageless Restoratives® Anti-Oxidant Booster Serum(Wal-Mart $19.99)
Helps calm skin, fight the look of environmental damage to skin's youthful appearance, and smooth out texture while brightening tone to reduce the look of discoloration.
NeoCell™ Super Collagen™ Type 1 & 3(GNC, $25)
This powder stimulates the protein that provides building materials for growth and maintenance of a healthy body. When Super Collagen™ is enzymatically processed into its amino acid form with a very low molecular weight, which can be utilized 100% by the body. SUPER COLLAGEN™ is neutral in taste and specially formulated in an easy to take form. It works synergistically with Vitamin C. Helps with growth of hair and nails too!!
---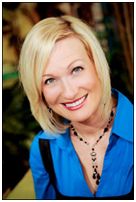 Holly Stone is no stranger to business and the beauty industry. Starting as a model at the age of 14 she decided that she preferred to be behind the scenes rather than in front of the camera. She choreographed fashion shows, selected models for events and assisted her agency with make-up.
Her skill for make-up artistry quickly became recognized and the demand for her talent launched a career that would take her all over the country. She received a bachelor's degree, and took a position as VP of Merchandising for Overstock.com. There she learned the business skills of resourcing, buying, marketing, and negotiating. She moved on to train in Los Angeles at AWARD, a leading make-up artist school in the west.
Today, with her business skills and her passion for the art of make-up, she manages a successful career as an educator and a veteran make-up artist of 16 years. She works in various media with actors/actresses, models, brides, and photographers. She is a consultant to several cosmetic distributors, spas, and salons where she teaches application and technique. She is a nationally recognized educator of cosmetic application and is a personal image consultant to people ranging from high position corporate figures to the every day woman.
Holly is the owner of Re-Creation Studio, School of Media Make-up Artistry. For information about her classes, visit www.learntodomakeup.com.