Studio 5 Contributor Sue Neal takes some ideas from the books, and throws in her own spin on how to have a football party at home.
---
The 'holy war' is one of America's oldest and most heated college football rivalries; it can bring out the best and the worst in people. We, however, are keeping it light, happy and family friendly with this spirited and super easy party ensemble.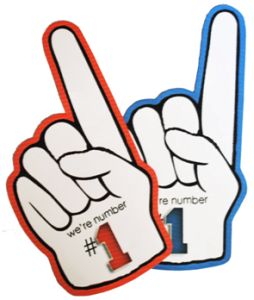 If you can't make it to the game, bring the game home! Tailgating doesn't have to happen in the stadium parking lot. Park as many cars in your driveway and possibly along the road with tails facing in, creating a little courtyard perfect for a party. Pull down the tailgates, open the trunks and you've got plenty of table and serving areas.
Add a real party and fan feel to your day by emphasizing color. There's no better or easier way to shout your college ball loyalties. There are scads of college football paraphernalia you can buy, but I've created a printable party that is inexpensive and quick. All you need is white cardstock and some scissors.
You can access all the downloads here, in both jpeg and PDF for quick & easy printing.
For this #1 mega hand you need to cut a 1 1/2″ x 10″ strip of paper, adhere together to create a band and adhere to back of hand. Slip your hand into the band.
A huge part of football fun is the food. You can eat is all before the game, or spread it out by offering courses pre-game, during quarters and half time.




Food is also an opportunity to play with color. Decorate cupcakes with colored frosting, wrap with a cupcake wrapper and pennant food pick.
Cut out the cupcake wrapper template (you get 2 per page). Overlap and adhere around cupcake. You could just trace this template on colored cardstock and use white frosting instead.
To create the food picks, trim the template, please adhesive on the inside and fold over the top of a toothpick.


Another easy paper crafted food holder is the Megaphone. Simply print, cut and fold. I purchased some pill bottle tops from my local pharmacy for 10 cents each and hot glued them in the bottom. These were surprisingly sturdy and held quite a lot of this tasty treat.
Here's a simple recipe for "Y" Mountain Trail mix as food in Jenny Stanger's BYU Cougar Cookbook.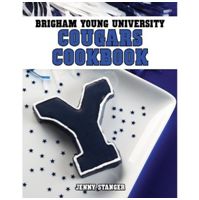 1/4 C sliced almonds
1 (12 oz.) box of rice chex or crispix cereal
3 1/2 C. mini pretzels
1/4 C. shredded coconut
1 1/2 C. Butter
1 C. corn syrup
1 C. sugar
Blue or Red M&Ms or other colored candy
Preheat over to 350 F. Place the almonds on a foil-covered baking sheet and bake for 6 minutes. In a large bowl, combine the cereal, pretzels, toasted almonds and coconut (I used at least 1/2 cup of both the almonds and coconut).
In a medium saucepan, melt the butter. Add the corn syrup and sugar; bring to boil and cook for 2 minutes. Pour mixture over the trail mix and mix well. Add M&Ms and stir until well combined.
Spread the trail mix onto two large baking sheets lined with wax paper to cool. Place in a ziplock bag to keep soft until ready to serve.




Another great idea combining treats with color is from Jenny Stanger's Ute Cookbook: Red & White Cinnamon Bears. As simple as dipping red cinnamon bears into melted white chocolate and red sprinkles.




Pennant Banners are a great way to decorate and can be hung from just about anything. Print out and trim template (you'll get three banners from each 8 1/2″ x 11″ sheet. Punch holes in top corners of each banner. Cut a long piece of twine or ribbon, using the printed out pennants to determine the length. Be sure to add extra length to tie to things.
The easiest way to do this is start with your middle pennant and thread through to the center of the twine. Make a small knot in front of each pennant to secure in place. Keep adding pennants until your banner is finished. You can also use the pennant as a template to cut plain colored pennants as well.
All of the printables came together very quickly and would be a fun family activity that children could help with.




To keep children occupied before and during the game, have some activities planned. I found this Foodball Pinata for $10 at a party store, but having the real thing around can make for a fun flag football game. Frisbee, badminton or one of those water bottle launchers can make for a memorable day for the kids.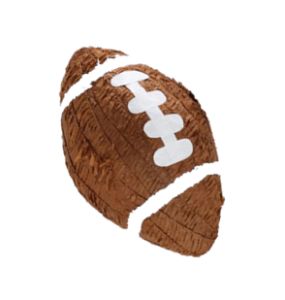 Pompoms have to be the most inexpensive and versatile item. It makes for great decor and kids just love to play with them. Kids could prepare a little half-time entertainment with a little coaching.
Children are not the only ones to entertain. What about a spread & score contest for every quarter. Winner gets a little basket filled with college ball paraphenalia or treats. The biggest loser could be made to wear the opposing team's t-shirt.
Lastly, trivia always makes for an interesting game. Here are some history facts about this 1oo+ year rivalry. You could do a fill-in-the-blank and have a prize for the person who guesses the best.

History
First
Meeting
Utah,
12–4 (1896)
Last
Meeting
BYU,
26–23

OT


(2009)
Next
Meeting
November
27, 2010
Number
of Meetings

91

All-Time
Series
Utah
leads, 53–34–4
Largest
Victory
BYU
56–6 (1980)
Current
Streak
BYU,
1
Longest
Utah Win Streak
9
(1929–1937)
Longest
BYU Win Streak
9
(1979–1987)
Last
Ten Games
Tied,
5–5
**And just in case you are a Aggies Fan…I've made a few templates in Aggie Navy Blue too!


---
For more great ideas on papercrafting and cooking, visit Sue's blog at www.sueneal.blogspot.com