Emily Simmonds, with Relay Utah, says the new Jitterbug cell phone was designed with seniors in mind.
---
Relay Utah, a state program managed by the Utah Public Service Commission, provides hearing assistive phones, at no charge, to hard-of-hearing and deaf Utahns. Thousands of people throughout our state are able to live more independently using these hearing assistive phones.
Available Phones from Relay Utah
There are several types of phones available to meet a variety of hearing needs. One of the newest is the Jitterbug® cell phone. Designed specifically with the senior user in mind, its large, backlit buttons are easy to see in both dim and bright lights. Simplified "yes" and "no" key commands make answering and making calls easy. It also has a padded earpiece that helps keep unwanted noises out to help you hear conversations more clearly.
Additional phones available include:
Cordless Amplified Phone or Corded Amplified Phone adjusts the tone and increases the volume of the incoming voice. The anti-feedback filter makes every word clearer and easier to understand without feedback and distortion, even with hearing aids.
Requesting a Phone for Your Home
To request a phone, download the application available on the Relay Utah website, www.relayutah.gov. A Relay representative to go out to your home and have you try several phones to see which one best fits your particular hearing needs.
Phones are available at no cost to Utahns who currently participate in the Supplemental Security Income (SSI) program, Medicaid or other Department of Human Services or Public Assistance programs. If you are not eligible for no-cost equipment but want to purchase one of these phones, you can contact the Sanderson Community Center of the Deaf and Hard of Hearing at 877-860-4861.
---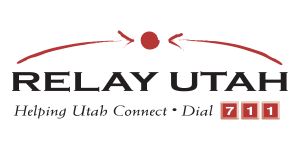 To learn more about the equipment program or 7-1-1 you can go to the Relay Utah website www.relayutah.gov or contact Gary Widerburg at (801) 530-6715.