Angela Anderson re-introduces us to the old-world technique of punch needle embroidery.
---
Russian or "miniature" punch needle embroidery is a very old needle craft that was once used to embellish clothing by Russian Old Believers. It is said that they used the hollow bones of birds as their needles to do the intricate work. Today, we use a hollow needle similar to a hypodermic needle to complete designs that have a more "folk art" type of look. Punch needle is great because a design can be completed in just a few hours, it is easy to do, and the finished product makes a great gift!
Materials List:
• 3 strand punch needle
• embroidery floss, such as DMC
• weavers cloth
• 6″ no slip embroidery hoop
Instructions:
1. Place your fabric with the printed design in your hoop, make it as tight as a drum.

2. Separate the floss into 3 strands.

3. Thread your needle with the 3 strands, following the instructions that came with your needle, making sure to thread the eye of the needle.

4. Begin punching your design by pushing the tip of the needle through the fabric until the fabric comes into contact with the needle handle, then carefully pull the needle up through the fabric and slide over one or two threads of the weavers cloth and punch again. Keep the bevel edge of the needle facing forward, and try not to let the tip of the needle leave the surface of the fabric.

5. It is best to work all motifs from the outside in by outlining them first, then filling them in. Punch the background last. Continue until you have filled in all areas.
6. Finish your piece as you desire or according to the pattern instructions, by framing it, making it into a pillow, etc.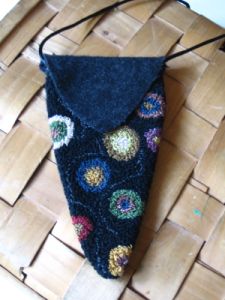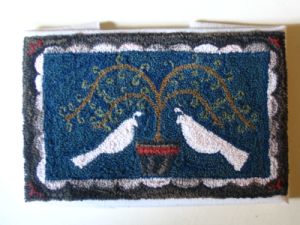 ---
For more information and to buy supplies and patterns, please visit:
Pioneer Primitives at www.pioneerprimitives.com
Email Angela at angelacho@yahoo.com
For Punch Needle classes, please contact:
Three Wishes Fiber Arts
7130 South Redwood Road
West Jordan, Utah 84084
(801)748-1881
www.threewishesfiber.com