Dr. Dave Latham from Stonehaven Dental discusses cosmetic dental procedures.
---
The age of ugly silver fillings and crowns that show gray at the gum line is over! Tooth-colored fillings and all ceramic crowns (no metal) are quickly becoming the standard of care. From tooth whitening to tooth replacement; cosmetic dentistry has made incredible technological and aesthetic improvements in providing beautiful smiles.
Tooth Whitening/Bleaching
Do you want a beautiful smile? Whitening your teeth is one of the easiest things you can do to improve your smile and boost your self-confidence. Imagine, a single whitening procedure can counteract years of exposure to coffee, tea, red wine, cola and smoking, giving you the smile you've always dreamed of!

Porcelain Veneers
Do you have discolored or crooked teeth, teeth with spaces between them or teeth stained by fillings? You can change the shape, color and length of your teeth using veneers. Veneers are thin, durable shells designed to cover the front of the tooth. They are typically made of porcelain and are extremely durable, stain resistant, natural-looking and easy to maintain.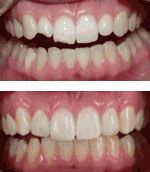 Veneers are custom-fitted to your teeth by removing a small amount of enamel and bonding the veneer to your teeth using a safe, high tech polymer resin. You can expect veneers to stay bright and strong for many years by performing good oral hygiene.
Cosmetic Bonding
If you have teeth that have stains that cannot be removed by bleaching, and veneers or crowns are not necessary, then cosmetic bonding might be a good option for you. Cosmetic bonding is an affordable, quick and painless way to repair many cosmetic flaws or injuries, including:
• Gaps in teeth

• Spots or stains

• Chipped teeth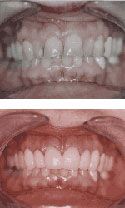 Dental bonding sculpts individual teeth without requiring removal of any tooth structure. This technique bonds a composite material that looks, acts and feels like the real thing, to an existing tooth. This procedure usually doesn't require the use of an anesthetic; is relatively quick to apply; gives an immediate result and is less expensive than veneers.
Crowns
Teeth are often restored using fillings. However, when too much of a tooth's structure is removed to support a filling, a crown or "cap" may be needed. A crown may be needed to:
• Restore a tooth when it is unable to support a large filling

• Attach bridges

• Protect a weak tooth from fracturing or restore fractured teeth

• Cover badly shaped or discolored teeth

• Cover dental implants
Crowns can be made entirely of gold or porcelain fused to a gold substrate for strength and beauty. However, with new technology, crowns can be made entirely from high-strength ceramic and porcelain for beautiful cosmetic results.
Bridges
Healthy and strong teeth support and maintain your jaw alignment. That is why when you lose one or more teeth, your remaining teeth may shift, and the ability to chew and speak may be affected. A bridge replaces missing teeth with artificial teeth, eliminating the gap where those teeth had been. The bridge is bonded onto surrounding teeth for support. Regardless of the type of bridge recommended, its success depends on keeping the surrounding teeth healthy and strong.
---
Address: 181 N. 1200 E., Lehi, UT 84043

Phone: (801)701-9779

Email: info@myutahdentist.com

Website: www.myutahdentist.com