studio 5 beauty and style contributor Holly Stone explains how to put the pencil to good use.
---
Pencils! In elementary school we all started our first writing adventures using a pencil. It allowed us to make a mistake, erase and start again while keeping it sharp and precise every time. Hooray for the person who converted this thought to make-up pencils!! From hiding all, to enhancing some, the pencil format is one of the easiest ways ever invented to apply make-up. This little tool packs a huge punch with several goof-proof reasons to add some to your collection. Pack your bag; it is time to go back to school to learn about the many uses of makeup pencils,
1) Pencils generally come in 2 formulas, regular and kohl, with the difference being in how they apply. Regular pencils tend to be a little harder and take more effort to apply. These pencils are always in a sharpen format and the tip looks quite sharp like a school pencil. These pencils are great because once applied, they stay in place and can last for hours. Kohl liners are soft so they apply very smoothly. Kohl liners are ideal for smoky eyes and lining the inside water well of your eyes. However use caution because they can be smudged easier. These pencils will be twist up and sharpen, with a shorter, wider tip that looks like the color tip was actually inserted into the pencil shell.
2) Pigment load varies. Not all pencils have the same amount of pigment or color. If it has very little pigment, you have to press harder and go back and forth more to get an effect. This could result in more tugging on the skin. By choosing pencils that have a lot of pigment, you can cut down on your application time with a tool that will do what it was designed to do! How to tell? Draw on the back of your hand. If you have to use more pressure, there is less pigment. If you barely have to press down to draw a line-you have found the right one!
3) Higher price does not equal better quality. Pencils at the drugstore can work just as well as pencils from a department store. Just find the color you like, test for pigment and enjoy the smaller price tag.
For Flawless Skin
Urban Decay 24/7 Concealor $17 Sephora
Spider veins? Age spots? Dark circles? No problem. This concealor can literally make them visibly disappear. A pencil concealor equals precise, mess-free application even while on the run—no brush, no dipping your finger into a pot, and no squeezing a dollop onto a sponge. Simply dot on tiny blemishes or shade in large problem areas. The creamy formula blends easily and dries down to a smudge-free matte finish.
Urban Decay offers 4 of the most precise color options I have seen to cover most skin undertones. You are sure to find the perfect match:
CIA (light ivory/ for fair to light complexions)
DEA (ivory beige/ for light to medium complexions)
FBI (neutral beige/ for medium complexions)
NSA (deep beige/ for medium to dark complexions)
For Lusher Lashes
Smashbox Waterproof Limitless Eye Liner (with built in sharpener) $19 smashbox.com
You have complete control of creating any illusion you want with makeup. Lashes a little sparce? Trying to get mascara right at the root of the lashes can be difficult and messy. But visual fullness starts at the roots. By lining the inside of your eye with a shade lighter than your mascara, you can create depth right at the lash line which is a natural-looking way to create the illusion of volume. Tip getting dull, the sharpener is in the lid! And this waterproof formula means it will stay in place much longer than powder or other pencils.
Choose brown if you wear black mascara, choose taupe if you wear brown mascara. For some FUN, try a darker color such as a deep burgundy or a bronze to enhance your eye color as well as creating lush lashes. Be careful because this pencil has SO much color that a little goes a long way. This is MY PICK of the BEST performing waterproof-specific eyeliner on the market TODAY. Favorite color is JAVA.
For Fuller Brows
Anastasia Perfect Brow Pencil $22 Nordstrom
You wouldn't go to a Mexican restaurant to buy egg rolls, just like you shouldn't trust your brows to anyone but a true expert in that area. Anastasia has been styling brows in Hollywood for years and is considered THE brow expert. Her products are specific to brows and her formulas are the best on the market. Your brows should be 1 shade darker than your hair color and this pencil has taken the guess work out of choosing that right color. Simply buy the shade which indicates your hair color, and let the pencil do the magic. And remember that brows are proportionate and are measured in angles from the outside corner of your nose to 1) inside corner of eye 2) Directly dissecting the outer pupil 3) outside corner of your eye.
Ash Blonde (cool taupe)
Blonde (warm gold)
Strawburn (reddish blonde)
Medium Ash (taupe based brown)
Brunette (dark warm brown)
Ultimate Brown (warm golden brown)
For Brighter Eyes
Smashbox Eye Beam Double Ended Brightener $22 smashbox.com
Bad night sleep? Lacking luster? Feeling blah? Well this little pencil has 2 of the most special products designed to give you the brightness you are craving. The redness of your water well is closest to the white of your eye. This red-white contrast can make you look like you haven't slept in days. Lining the water well with a nude color instantly adds to your sleep count by neutralizing any sign of red. In one soft swipe, you can literally wake up tired eyes. Turn the pencil to other side for a beautiful highlighter which can be applied directly under the brow, in the inside corners of your eyes, or on the high plane of the cheekbone. Voila Van Gough-Instant light!
For Smoky Eyes
Nars Soft touch Shadow Pencil $24 Nordstrom
"I am not a makeup artist and can't do a smoky eye. I want to try a smoky eye but it looks so difficult. Those smoky eyes look great on someone who knows how to do them." Comments I hear often and to which I say NON SENSE!. Smoky is simply a technique of applying a darker eye shadow shade from lash to your crease and then underneath the eye. Smoky technique goes all around the eye. This Nars pencil makes smoky eyes a snap. Just draw a line across tops of lashes and then fill in lower eye lid back and forth to the crease. Stop there. Finish with one swipe under the eyes and that's it!
Favorite color: Aigle Noir- a gunsmoke green
For A Plumper Pout
Tarte Natural Lip Stain with LipSurgence™ Technology $24
This pencil provides a natural lip stain that is clinically proven to increase lips' moisture content by 6000%. When lips are dry they can look shriveled. Add moisture for automatic fuller pout. This light lip pencils gives lips a hint of color with a ton of shine. When worn alone, it is the perfect pencil because it is easy to apply and is very natural looking. Tastes great too. Delicious lips await!
---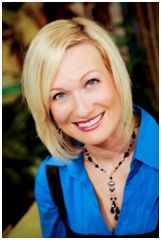 Holly Stone is no stranger to business and the beauty industry. Starting as a model at the age of 14 she decided that she preferred to be behind the scenes rather than in front of the camera. She choreographed fashion shows, selected models for events and assisted her agency with make-up.
Her skill for make-up artistry quickly became recognized and the demand for her talent launched a career that would take her all over the country. She received a bachelor's degree, and took a position as VP of Merchandising for Overstock.com. There she learned the business skills of resourcing, buying, marketing, and negotiating. She moved on to train in Los Angeles at AWARD, a leading make-up artist school in the west.
Today, with her business skills and her passion for the art of make-up, she manages a successful career as an educator and a veteran make-up artist of 16 years. She works in various media with actors/actresses, models, brides, and photographers. She is a consultant to several cosmetic distributors, spas, and salons where she teaches application and technique. She is a nationally recognized educator of cosmetic application and is a personal image consultant to people ranging from high position corporate figures to the everyday woman.
Holly is the owner of Re-Creation Studio, School of Media Make-up Artistry. For information about her classes, visit www.learntodomakeup.com.