Designer and blogger Kirsten Krason believes taking a few designs "risks," will set your home apart.
---
So many people want their homes to look amazing but they don't ever want to step out of their comfort zone and take the risks that are required to have an amazing space. What people need to realize is that if they don't ever let go and take a risk their home will continue looking like it has always looked.
Here are some simple ways to start out taking risks in your home.
1. Embrace Color
Recently, I was working with an oh-so-cute client who informed me her favorite colors were red and yellow. While I was shopping for her living room, I ran across this blue chair that I knew would be perfect. She was really nervous about it but she agreed to trust me – and it looked amazing! Buying a blue chair is something that I'm sure she never thought she would do. But the risk really paid off. A lot of people have their mind set on colors they do or don't like but I encourage people to think outside the box and to break away from what they are used to. Try a color you didn't think you would like. And don't be afraid to have colorful furniture. Color can add so much to a room. Every single piece does not need to be a different color; pick and choose a few items that you want to really stand out in the room.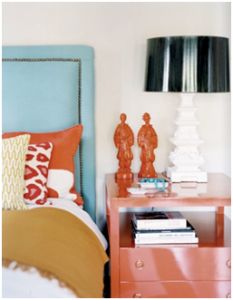 2.Wallpaper a Small Space
Wallpaper is back in a big way. I know a lot of people (including myself) have had some really bad experiences with wallpaper of the past. But the wallpaper of past days is not the same wallpaper that we are seeing now. There are some amazing modern patterns and prints out there now. If you want to try wallpaper just try doing a small room. Or do an accent wall. This is a great way to get some high impact drama in a room.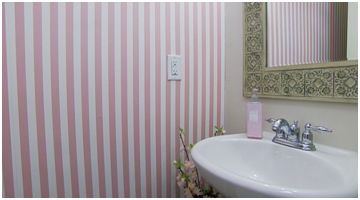 Wallpaper: Blue Mountain Wallcoverings, www.designbycolor.net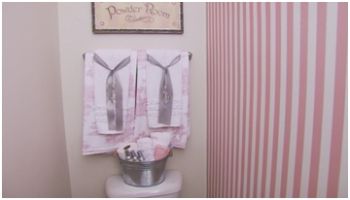 Wallpaper: Blue Mountain Wallcoverings, www.designbycolor.net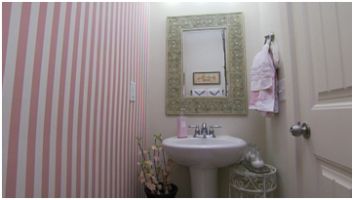 Wallpaper: Blue Mountain Wallcoverings, www.designbycolor.net
3.Stencil a Wall
If you just can't commit to wallpaper, try stenciling instead. Stencils are also making a comeback and we are seeing stenciled designs appear in some amazing rooms. With a stencil you can get the same impact as with wallpaper, but you don't have the hassle of peeling it off when you are done with it.. A simple coat of paint, and your wall is as good as new.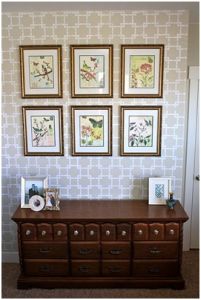 4. Get Graphic
Graphic patterns can be very "in-your-face," which I think is why a lot of people are scared of them. A graphic pattern is the easiest way to make your room exciting. A graphic pattern on the wall or a curtain with a large-scaled pattern can really add drama to a space. This is something that will automatically make people walk into your house and say, "wow"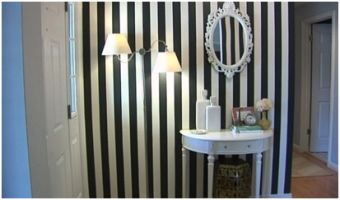 Above all – if you want your home to look amazing you really have to let go of your fears. Don't worry about the "what-ifs". You may mistakes along the way but mistakes are a natural part of the process!
---
Kirsten Krason is a designer and blogger. She loves mixing her two passions of blogging and Interior Design to bring advice and inspiration to her thousands of readers. If you are in need of full service design services or even just a consultation she is happy to help. Visit 6thstreetdesignschool.blogspot.com for more information.