From developing a theme, to the small touches that make a difference, Brittany Egbert, with One Charming Party, shares five party building blocks for an enjoyable event:
---
Best Bets for Successful Parties
1. The invitation to a baby shower sets the tone for the upcoming party and gets guests excited. Have the invitation envelopes professionally addressed by a calligrapher. Use fun stamps that go with the theme. For a less expensive option, run the envelopes through your printer with a fun font to create the same effect. Check local stamp shops or eBay for older stamps that are often sold at face value.
2. An easy way to come up with a baby shower theme is to base it on a book. A classic/vintage children's book or a favorite book of the mommy to be from her childhood work great. Use the colors from the book as your shower colors and pull elements to tie your theme together.
3. Cupcake toppers are an easy way to carry a theme through your party. They are simple and quick to make using paper, tape and sucker sticks or toothpicks.
4. Try to find ways for the baby shower decor to do double duty. For example you can hang a banner at the party that says "It's a girl" and then give the banner to the mommy to use at the hospital or at home.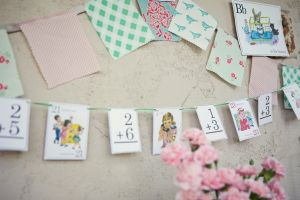 5. Encourage people to use reusable plates, cups, utensils, tablecloths and napkins. It's better for our environment and it looks nicer too.
3 Common Baby Shower Traps to Avoid:
1. Don't have any games at the shower. No one wants to sit through boring or embarrassing shower games anymore. Instead, focus your time, money and energy on great food. Then let your guests relax and chat with one another.
2. Don't serve just desserts or candy. Candy buffets and dessert bars are very popular, but make sure you offer some food too. You never know what food allergies, diets or eating restrictions your guests might have. They might not be able to eat any of the desserts. Plus, women may eat 12 cupcakes in the comfort of their own home, but as a guest at a party they will, more likely, just politely take one dessert. Have fresh fruit and veggies, appetizers, mini sandwiches, etc. to eat as well.
3. Don't feel obligated to hand out a party favor–especially one that will be tossed in the garbage or that will clutter up your guests' houses. If you do opt for a favor use a cute cookie wrapped in a cellophane bog or give mini bouquets that were part of a larger flower arrangement.
---
See more innovative party ideas at Brittany's website,
onecharmingparty.com