Michelle Virtue, with BYU Campus Craft and Floral shares ideas to make an impressive centerpiece, using veggies!
---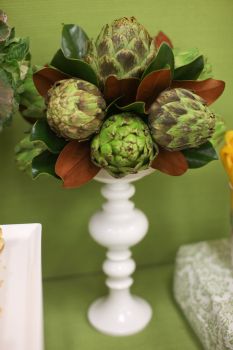 It's that time of year again when your refrigerator crisper starts overflowing and the thought of eating another serving of broccoli sends you running for the local bakery. The good news is that eating healthy can be fun, full of style and creative. Try something new the next time you entertain. Instead of displaying the ever-popular cupcakes and candy jars, opt for something a little friendlier to the waistline. Vegetables have such a variety of rich colors, textures, and sizes that they make the perfect addition to floral centerpieces. Leave them to stand on their own or mix them with fresh flowers. Their beauty and versatility might even help encourage you to finally reach that New Year's Resolution!
Tips for Using Fresh Vegetables for Entertaining:
– Buy produce that is fresh! Avoid anything too ripe, bruised or misshapen.
– Look for lots of color! Peppers, cabbage and carrots are some of our favorites!
– Texture is a must. Artichokes, kale, cauliflower and broccoli give arrangements dimension and interest.
– Vegetables like to be kept cool and misted frequently to maintain their crispness and color.
– Think outside of the box! Radishes, celery, radicchio, eggplant, beats, turnips and fingerling potatoes are amazing. Start looking &nbsp ;at your produce a little bit differently.
– Display vegetables on solid clean colors. White, green, yellow and black are best. Let the vegetables speak for themselves on white platters or in clear glass.
– Offer guests a variety of complimentary dips from rich and flavorful to low-calorie. Try them in individual serving sizes to avoid double dippers and table linen messes.
---
For a great selection of fresh flowers and home décor, visit BYU Campus Craft & Floral:
Campus Craft & Floral
1021 WSC
Provo, UT 84602
(801) 422-2840
www.campuscraftfloral.com