Studio 5 Contributor Kiersten Blanchard has some great ideas for having an adventure not too far from home.
---
Cooking in a Can
Pizza Party Soup
Serves 4 to 6
Ingredients:

1 Tbsp. butter
1 c. vegetables (choose from mushrooms, green pepper, onion, olives or any combination)
1 c. meat (choose from ground sausage, ground hamburger, or pepperoni chunks)
2 small (8 oz.) cans tomato sauce
1 can (14.5 oz.) Italian style stewed tomatoes, cut up
1 to 2 cups beef broth
shredded mozzarella cheese
goldfish crackers or breadsticks (optional)
Directions:
Preheat the can by placing it in or over the heat source.
Wear oven mitts and use tongs when handling the hot can.
Melt the butter in the can. If using raw meat, add it to the butter and brown.
Add the vegetables and stir until cooked (about 3 minutes).
Add the tomato sauce, tomatoes, and broth. If your meat is pre-cooked, add it now.
Cover the opening of the can with aluminum foil, removing to stir occasionally. Cook until warmed through, about 15 minutes.
Top with mozzarella cheese and crackers…or (my favorite) dip breadsticks in and enjoy!
This recipe can be made in a fire pit, over coals, on a grill or on your stove top.
---
Family S'mores Bar
What flavors to do like to mix with chocolate? The sky is the limit when it comes to creating a deliciously unique s'mores bar.
Begin with the basics:

Graham crackers, chocolate bars, and marshmallows
Or substitute some of the following for your basic graham cracker:
Chocolate chip cookies

Chocolate peanut butter cookies

Fudge-dipped grahams

Fudge-striped shortbread cookies

Chocolate Macaroons
Then include fun toppings like…

Chocolate covered raspberry or orange sticks

Reese's Peanut Butter cups

Chocolate covered peanuts

Cherry pie filling

Canned whipped cream

Caramel sauce

Coconut

Junior Caramels or Mints

Marshmallow cream

Homemade marshmallows (see recipe below)
Arrange it all on the table. Be sure and adult helps kids heat the marshmallows over the fire pit, and enjoy your created-to-taste homemade s'mores.
---
Homemade marshmallows
Ingredients
Non-stick cooking spray
4 envelopes unflavored gelatin (3 tablespoons plus 1 1/2 teaspoons)
3 cups granulated sugar
1 1/4 cups light corn syrup
1 ½ cups cold water, divided
1/4 teaspoon salt
2 teaspoons pure vanilla extract
confectioners' sugar, for dusting
Directions
Spray a 9-by-13-inch glass baking dish with non-stick cooking spray. Set aside.
Put granulated sugar, corn syrup, salt, and 3/4 cup water into a medium saucepan. Bring to a boil over high heat, stirring to dissolve sugar. Cook, without stirring, until mixture registers 238 degrees on a candy thermometer, about 9 minutes.
Meanwhile, put 3/4 cup cold water into the bowl of an electric mixer; sprinkle with gelatin. Let soften 5 minutes.
Attach bowl with gelatin to mixer, fitted with the whisk attachment. With mixer on low speed, beat hot syrup into gelatin mixture (pouring the syrup in slowly). Gradually raise speed to high. Beat in vanilla. Beat until mixture is very stiff, about 10 minutes. Pour into prepared dish, and smooth with a spatula. Spray some parchment paper with non-stick cooking spray; place on top of marshmallow in dish and smooth on top. Set aside, until firm, about 3 hours or overnight.
Sift confectioners' sugar onto a work surface. Remove parchment from top of marshmallow, and unmold marshmallow onto confectioners' sugar. Lightly spray a sharp knife (or pizza cutter) with non-stick cooking spray, then cut marshmallow into 2-inch squares. Sift confectioners' sugar into a small bowl, and roll each marshmallow in the sugar to coat. Marshmallows can be stored in an airtight container up to 3 days.
---
S'mores Bars (for the slightly less energetic s'mores connoisseur)
Ingredients
8 whole graham crackers
1 (19.8 ounce) package fudge brownie mix
2 cups miniature marshmallows
1 cup semisweet chocolate chips
2/3 cup chopped peanuts (optional)
Directions
Arrange graham crackers in a single layer in a greased 13-in. x 9-in. x 2-in. baking pan. Prepare the brownie batter according to package directions. Spread over crackers. Bake at 350 degrees F for 25-30 minutes or until a toothpick inserted near the center comes out clean. Sprinkle with marshmallows, chocolate chips and peanuts. Bake 5 minutes longer or until marshmallows are slightly puffed and golden brown. Cool on a wire rack before cutting.
---
10-Step Teepee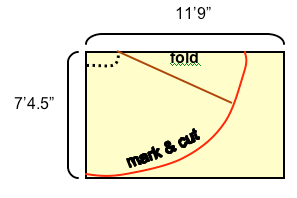 Just like the traditional Native American tepee that inspired it, this backyard shelter can be assembled and dismantled in a jiffy. It's big…it's sturdy…and promises hours (even overnight hours) of family fun.
Materials
11'9″x14'9″-8 oz. canvas drop cloth (available at your local home improvement store)
Measuring tape
Colored marker
Scissors
Circular paper punch
White cotton rope
8 10-foot-long white PVC pipes, ¾" diameter
2 chopsticks or similar strips of wood
Time needed: Afternoon or Evening
1. Fold the tarp in half so that it forms a 11'9″x7'4.5″-rectangle. Don't be confused by the measurements…just fold the longest side in half.


2. Measure in 1 foot along the fold and mark the spot. (see diagram)


3. Have your child hold one end of the rope at the marked spot. Step away from your child, pulling the rope until it's taut (and about 7'4″ long) and tie your end around the colored marker. Move the rope in an arc, marking a line on the canvas as you go.


4. Cut the tarp along the line and then cut out a rounded 12×6-inch rectangle to the left of the marked spot at the top of the tepee.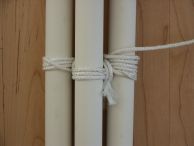 5. Loosely lash together (see figure 1) three of the PVC pipes 30 inches down from the tops with a piece of rope, then stand them up like a tripod. Lean the remaining poles against the tripod so that they are evenly spaced.
6. Drape the cut canvas around the tepee frame, overlapping at the top a bit. Using a hole punch, make 2 sets of holes through both layers of the overlapped portion and thread the chopsticks through them to hold the canvas in place.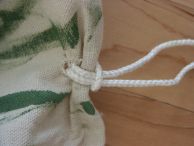 7. To secure the lower edge of the canvas to the frame, punch a small hole about 1 inch from one of the tarp's bottom corners. Then, loop a short length of rope through the hole, as shown in figure 2, and tie the ends around the base of one pole. This pole will become part of the doorway. (You may also drill a hole through the PVC pipe and tie the canvass to the pipe that way.)
8. Gently stretch the canvas around the PVC frame so that the canvas extends past the first pole to create a door flap.


9. Punch a small hole near the lower edge of the canvas where it falls on the remaining poles and tie it in place using the same method as before.
10. Decorate your teepee (while the canvas is flat on the ground) using brushes and fabric paint. Enjoy!

Fishing Feet
Needed
Small wading pool
Dish soap (I use Johnson's Baby soap)
Water
Small toys that don't float
Fill the wading pool with soap and water. Drop in the toys. Sit by the side or stand in the pool and gather the toys with your feet.