Rob Morris, Education Specialist at Clark Planetarium talks about the Planetarium's education mission
---
Everyone at the Planetarium is passionate about science – and we're fortunate that we're able to share that passion through our shows and exhibits, as well as through the education programs that we present both in the Planetarium and in classrooms across Utah.
Our education programs include everything from the exciting and interesting Planetarium Theatre shows we present (like Saturn: Jewel of the Heavens) to our in-classroom education outreach (like our AstroVan) and our teacher workshops, materials and resources we provide.
In fact, in 2009 alone, our education outreach programs reached more than 78,000 students across the state – and provided teacher workshop sessions for 287 teachers in 23 districts throughout Utah.
None of these programs would be possible without the generous support of the citizens of Utah who are passionate about science, too. That's why our upcoming Gala, which helps us raise funds to continue these programs, is so important to us.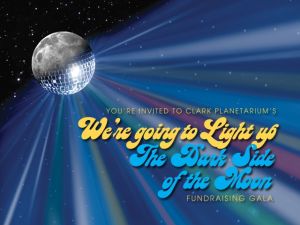 About the Gala:
• Our annual Gala is one of the times everyone at the Planetarium gets to sort of let their hair down and kick up their heels – but it also serves a very important purpose: To fund our education programs that occur throughout the year.
• This year, we're going with a retro theme: "Light up the Dark Side of the Moon" and we're encouraging everyone to wear fun '70s-inspired apparel.
• The Gala will feature cocktails, a science demonstration and silent auction – as well as dinner provided by some of Salt Lake City's finest restaurants.
• A live auction will follow in the Hansen Dome Theatre, as well as a presentation of Pink Floyd's Dark Side of the Moon Cosmic Light Show. All guests will receive a beautiful string of pearls compliments of Overstock.com.
• Available items for purchase include Sundance Film Festival VIP credentials, courtside Jazz tickets, travel getaways, Broadway Across America performances, and a one-of-a-kind astrophotography experience. As mentioned, all proceeds support Clark Planetarium's leading-edge space science education programs.
---
Tickets for the event cost $100 for individuals, or $125 after Sept. 17.
For more information, visit www.clarkplanetarium.org.