Studio 5 Contributor Sue Neal shares tips and recipes.
---


Utah is a hunters nirvana with large congregations of geese, duck, pheasant, elk, the occasional Moose and more. Once the game is home, however, the challenge is how to cook it. It can be an overwhelming task, but well worth the time and effort. Wild game has taken center stage in many fine restaurants and with careful preparation can be some of the best meat you have ever tasted.
Big Game (Elk and Moose)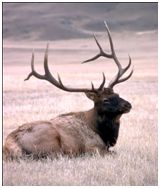 Large game like Elk and Moose are probably the easiest to prepare in large part because it'sbutcher cuts are so similar to beef. Unlike beef, wild game (in general) will always have less fat and more flavor than farmed meat. They have to work hard for their food! The result is tender, fine-textured meat that is low in fat.
Because of the lower fat content, it usually requires a shorter cook time when preparing tender cuts, but tougher cuts can handle long and low braising with dishes like stews and chilis.
It's the gamey taste of wild game that has made it so popular on one hand and then disregarded as unpleasant on the other. The taste of wild game largely depends on what the animal is feeding on. A deer in Utah tastes completely different than an eastern deer. I'm not particularly fond of Utah deer, but Elk and Moose, which graze on higher elevation grasses have amazing taste. I have heard, however, that pressure cooking a briefly marinated deer results in a tender, less gamey meat perfect for stews, soups and chilis.
You can reduce the gaminess of meat by marinating in milk, which mellow the flavors. You can then chicken-fry it, or prepare it anyway you'd like.
If, however, you enjoy that unique flavor, best results for an amazing tender cut of elk or moose can be found in a segment I did for Studio 5 on Club Steaks. This same cooking technique works perfectly for all tender cuts.
studio5.ksl.com
I've never prepared or eaten an Antelope, but get mixed reviews from people who have. What I have read is that Antelope is similar to veal even though it's more like a goat.
For less tender cuts of big game, create a ground version to be used in any dish you would normally use hamburger (ground meat). Most butchers will add pork or beef fat to the mixture to create a similar texture to ground beef, otherwise the meat will be very dry as there is so little fat in big game. I've also extended my ground beef by mixing half and half.
Waterfowl (Ducks and Geese)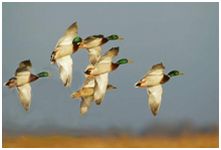 Like big game, small game will never look or taste exactly like it's farmed counterpart. If you've ever cooked a farmed duck, be prepared to see a much smaller and less fatty animal. Fat is what makes a duck so special, in fine dining it is prized as a culinary jewel. Ducks and Geese have a layer of heat-insulating subcutaneous fat between the skin and the meat. Properly crisped Duck skin & fat is heavenly.
The temptation is to think of a duck like a chicken, but it couldn't be more different. Duck & Goose meat is derived primarily from the breasts and legs. Like a chicken, the leg meat is darker, but unlike a chicken, the breast is also dark and really more like a red meat that is appropriately prepared at medium (pink on the inside).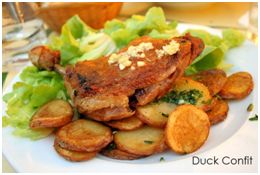 Farmed Ducks do well as a whole roast, but for wild ducks I suggest removing the breasts and preparing them in a hot, hot pan (to get that fat crispy) and cooking the rest of the carcass in a soup pan with aromatics (onions, celery, carrots, bay leaf). After 2 hours, remove the carcass and pick off any meat that is left. Strain the rest of the broth and pick off any meat that had fallen in the broth. Refrigerate the broth overnight. In the morning skim off that precious duck fat and save the broth for soup. Delicious! This way you're getting several meals from one whole duck.
Internal organs such as heart and kidneys may also be eaten and the liver, in particular is often used in pates and as a substitute for goose liver in Foie Gras.
Reserve the Duck fat for some of Frances most prized imports; French Fries (Pomme frites), confitand Sautés.
One of my favorite recipes for Duck is Braised Duck Breast with Raspberry sauce. The sweet, savory sauce pairs perfectly with the duck.
Duck with Raspberry sauce
Prepare Duck by either roasting a whole duck or Braising Duck breasts in a pan. Be sure to score the skin and fat layers, which will add to the crispiness.Salt the meat with coarse salt and let stand at room temperature for 30 minutes.
If you are braising breasts, sear first, skin side down in very hot oil until it turn a deep golden brown (about 3 minutes), turn temperature down a bit and sear for an additional 3 minutes. Transfer pan to a 375 oven and roast for another 5 – 10 minutes for a medium rare finish (thermometer should read 125 F.)
After meat is cooked let the meat rest for 10 minutes covered lightly with foil. While you're waiting, prepare the sauce.
• 1 large shallot, finely minced.
• 1 Tbsp. fresh garlic, finely minced and smashed
• 1/2 cup orange juice
• 1 cup fresh or frozen raspberries that have thawed
• salt & Pepper to taste
• 2 tsp. Cinnamon (or to taste)
• 2 tsp. butter
If you've braised your duck, pour off most of the duck fat. If you've roasted the duck, pour some of the fat and fond (Brown bits at bottom of pan) into a sauce pan.
Sauté Shallots and garlic for a few minutes until translucent, scraping up the fond (brown bits) at bottom of pan. This adds immensely to the flavor and color of your sauce.
Add rest of ingredients (except the butter) and let simmer and until it reduces into a thin sauce. Strain through a fine-sieve, pour back in pan and add 2 tsp. butter, stir. Slice duck breasts and ladle sauce over.
Land fowl (Wild Turkey, Pheasants, Quail and Grouse)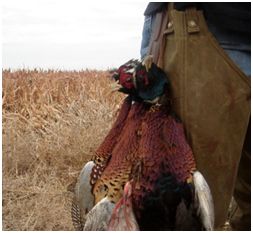 We're entering unfamiliar territory here: I've shot at Grouse and missed, shot at wild turkey and didn't miss and eaten pheasant and Quail in restaurants), but I can't leave this type of meat unaddressed.
My only experience cooking land fowl is the Wild Turkey; it was many years ago, before I knew that the best way to cook any turkey is to brine and roast, so I would definitely go that route if I lucked into another wild turkey.
So, I started to think that maybe brining was the way to go with all wild land fowl. Sure enough, with some googling, I found many wild game cooks who swear that brining and roasting is the way to go from tiny Quails to Wild Turkeys.
Brine
• 8 cups water
• 1/2 cup kosher salt
• 1 cup brown sugar
• 1 onion, quartered
• 5-6 smashed garlic cloves
• 2 bay leaves
• 1 Tbsp black peppercorns
Heat water and salt until salt is dissolved, then allow to cool to room temperature for about a half hour.Add the sugar, onions, garlic, bay leaves and peppercorn. Add birds, cover and refrigerate overnight.
The next day, preheat oven to 350 degrees F.Place brined birds in a roasting pan breast up and insert a tablespoon of the butter under the breast skin. Stuff cavity of birds with half a lemon and fresh woody herbs like Rosemary and sage.Rub the rest of the butter all over the pheasant, then roast uncovered for about 1-1/2 hours, depending on the size of the bird. Pierce leg to check for doneness. If juices run clear, then meat is done. Baste frequently.
Pan juices can be used to make gravy, but tends to be quite salty because of the brine. Do not add salt to the gravy and you might be alright.
You can also toss some quartered potatoes, carrots and squash in with the roast for a quick and easy dinner.
---
For more ideas and inspiration, check out Sue's blog: sueneal.blogspot.com.