Blogger Shelley Smith shares some amazing do it yourself projects to pull off a chic Halloween.
---
So I decided to take "Halloween Decorating" to the NEXT level, this year.
Classy, affordable, spooky, and just a little eerie.
Everything that I bought was done on a very reasonable budget!
Mostly because Halloween (for me anyway) isn't the type of decor I leave up for long.
So if you like something you see… I'm pretty confident
you'll be able to implement a lot of the same ideas, in your OWN home,
and not have it leave your wallet empty 🙂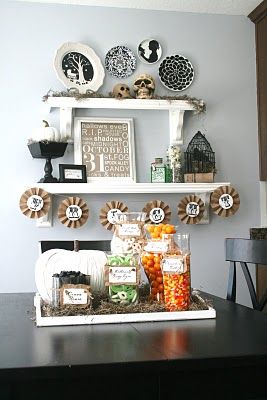 I started out this whole Halloween idea with this fun table candy display!
It's a great way to bring color, and maybe a little "ew" factor into Halloween, with
fun homemade labels and some creative new candy titles 🙂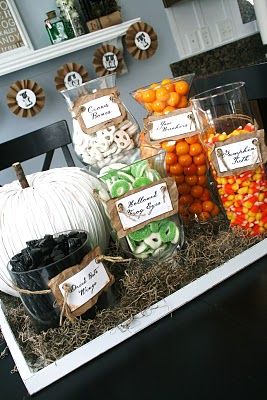 I even got my 4 year old twins in on this one. They were more then excited to come up with
"creepy candy names"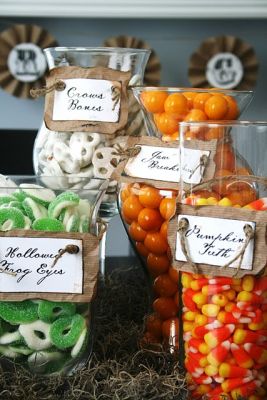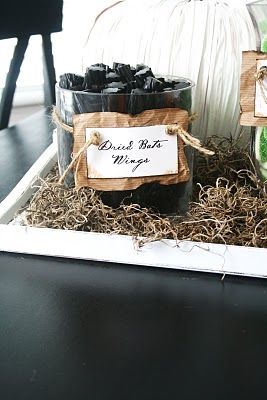 Once we had them all written down, I printed them on a thick card stock,
in the CK Frankfurt font,
Cut them out,
Mounted them on some brown packaging paper (bought from the salvation army for $1.00)
Distress Inked the edges of the card stock, and slightly burned the edges of the
brown paper,
Put black eyelets on the outsides… ran some twine (also a $1.50 purchase at the thrift store) through them,
and tied simple knots on the ends, to keep them from falling out!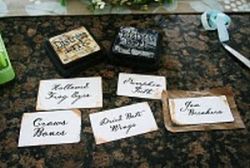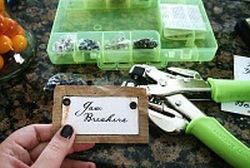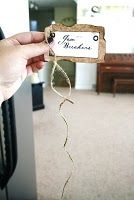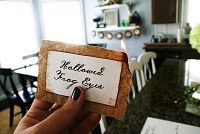 So easy!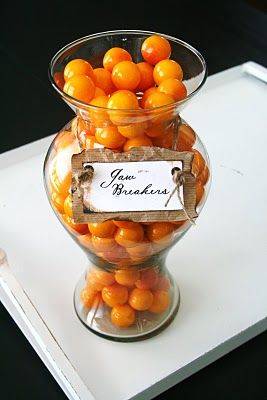 *All of the Jars were bought from thrift stores for under $3.00 each
*I used Spanish Moss from my local craft store $2.99 for the entire bag
*And spray painted white, the corn husk pumpkin that I found for a $1.00, also from a thrift store.
Next:
Halloween-ing up our shelves! 🙂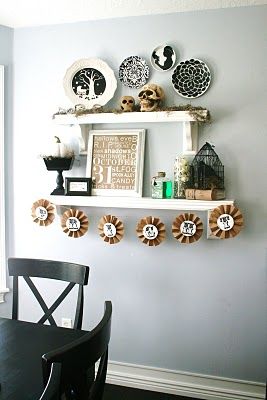 All these fun plates were found on clearance or at thrift stores 🙂
the smallest plate is actually the bottom of a plant stand
All BUT the damask plate have vinyl decals, that I applied, on them.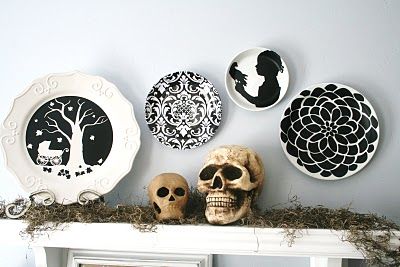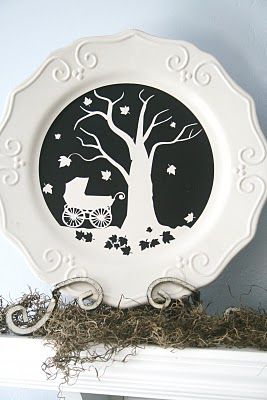 You can buy these vinyl decals HERE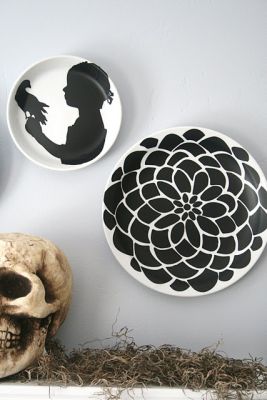 Like I said… the Damask plate was bought, as is for $3.00 at Hobby Lobby,
and the skulls were purchased at Michaels Crafts for $1.99 and $5.99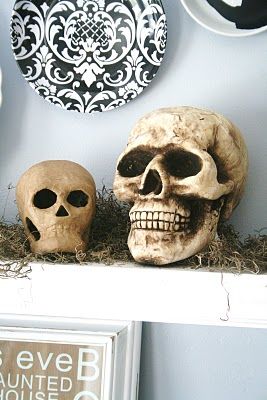 I hung all the plates, using paper cutout guides first…
then used hot glue and ribbon to make a loop on the backs of the plates,
and small picture hanging nails to hang them on the wall.
ya… this plate was like .38 cents. LOL. I love it 🙂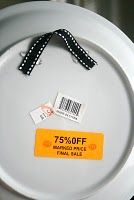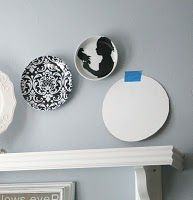 Here's the breakdown for the bottom shelf!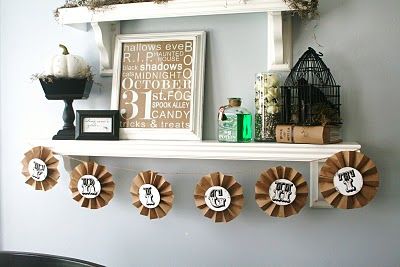 I found this wood stand from Salvation Army for $1.50, and sprayed it gloss black.
Then bought a $3.00 pumpkin/gourd from Michaels Crafts, sprayed it with a couple coats of white,
and then took some sandpaper to it, to bring out the original green/yellow tones.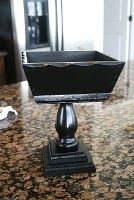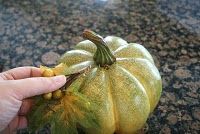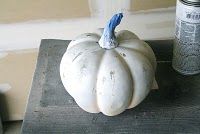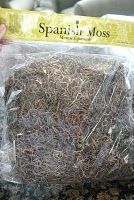 Used some more of that Spanish Moss and made sort of a centerpiece 🙂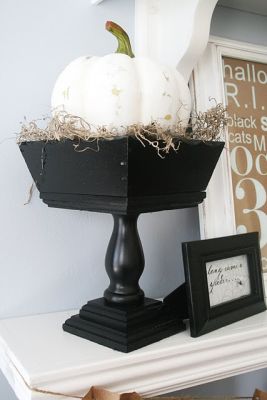 This small frame was .50 cents.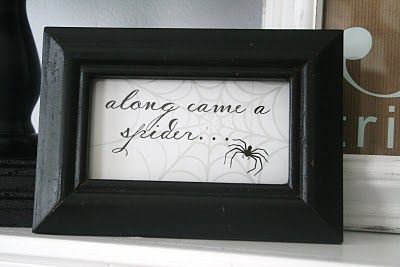 I designed my image in photoshop and then put it in the frame.
Easiest project to date. lol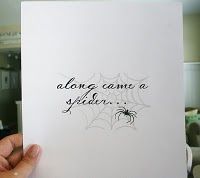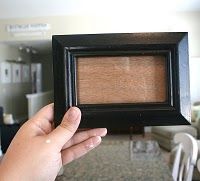 Halloween Subway Art:
Subway art is EVERYWHERE.
I hadn't jumped on the "bandwagon" yet…
So I thought… better late than never 🙂
This is MY take on it.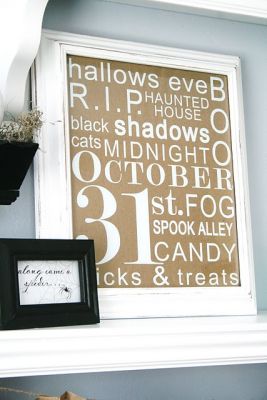 Bought a $3.00 frame with glass, from the thrift store,
spray painted it flat white…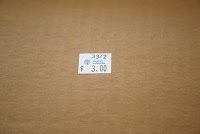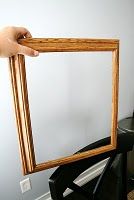 and then took sandpaper to it, to distress the edges.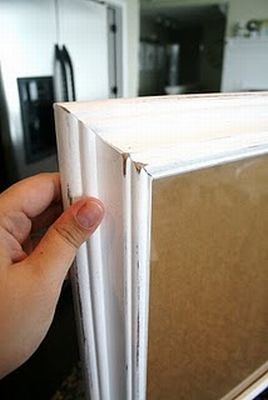 Applied my mirrored vinyl decal, that again, you can get HERE
backed the cardboard with brown packaging paper…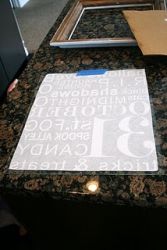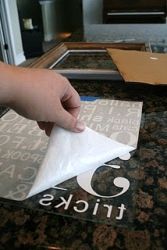 …and WA-LA!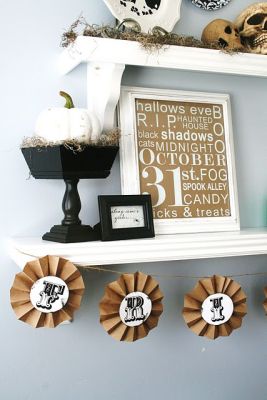 Found this cool bottle at the thrift store, also…
adhered another small vinyl decal, some twine, food coloring, and "drink me" tag to it, that I made.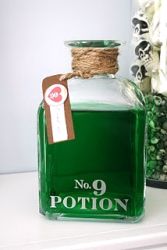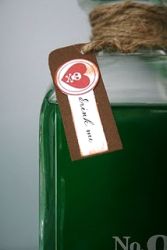 I filled this thrift store vase with Dollar Store small skulls and shells I found from
our recent trip to Bear Lake
total cost = $3.00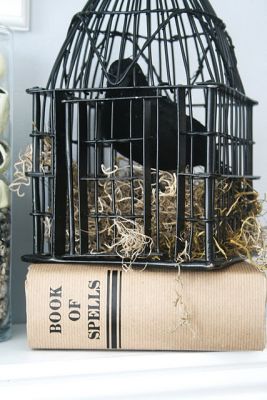 The book of spells is actually an old photo album, covered in brown packaging paper, again…
with a small vinyl decal on the side.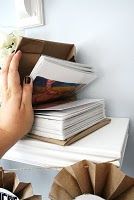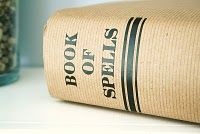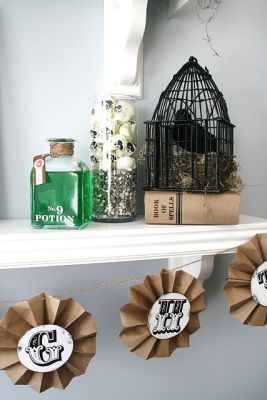 FRIGHT Garland
Used (yes again) the brown packaging paper and white cardstock printed letters in
Circus Font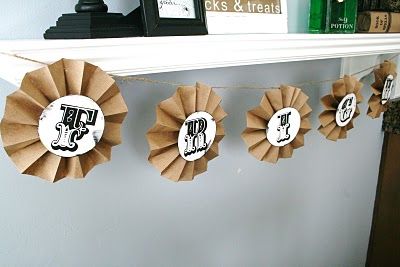 Cut about 3 inch strips, accordion-ed them, and then glued the two ends together,
to make a circle.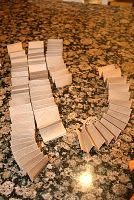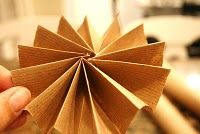 Cut out the printed letters in circles, and distress inked them,
punched a small hole in the brown paper, and strung some more of the
twine through each of them, to make garland.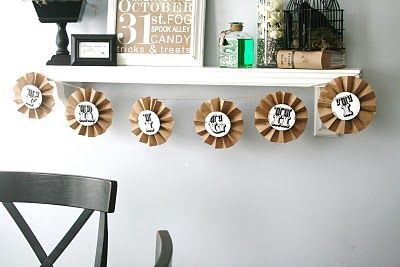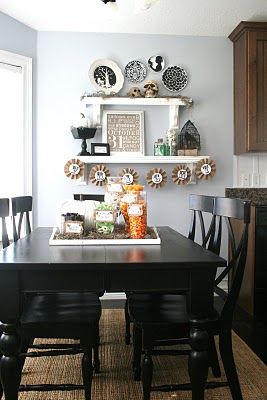 ---
House of Smith's is a fun blog my husband, Cason and I started in order to track the cosmetic part of our families progress on our home remodel and design style, shift! As a full time stay at home Mom of three beautiful girls and running a small business from home, I have found a new appreciation for the beauty and upkeep of my house! And as each day goes by, and a new project gets done the phrase "Love the Space You're In" becomes more and more meaningful to me!
I often try to find new fun ways to update, change, and decorate our "space" on a budget. There's something to be said about finishing a great project in your home, all on your own, looking back, and saying to each other… "WE did that !!!"
House of Smiths is a fun way for me to share, inspire, and learn from our new attempts at tackling projects on our very long list of "things to do!"
At the Smith house, our motto is… "Making a house, our HOME… one space at a time"
~Shelley Smith