Jill Grover is a well-known designer and owner of the local home goods company "Jillie Willie." We dig her designs – we adore her aprons. But she will tell you everything that she does goes toward the same goal: creating happy homes.
---
Her house is strikingly chic – bright, colorful and comfortable. But designer Jill Grover will tell you the ultimate compliment is to label her home as "happy."
"I've been taught all the skill in interior design and I break every rule, because I think what matters most is memory and feeling," Jill explains.
For Jill, a happy home doesn't have to be grand or great – it just has to feel good.
"I think the people that live in your home, if they are happy and there are good things around them to help them think of good thought and good memories – then your home is happy," Jill said. "It doesn't matter what size it is. I grew up in a really small home and there were nine of us. But I had no idea it was so small; we were so happy there."
Jill strives for that same warmth and welcome in her own space. Choosing decor carefully, and designing with others in mind.
"I'm kind of emotional about what I buy," Jill laughs. "It doesn't have to be the latest or greatest – it just has to feel good. I think we get so caught up in designing – the color and the most beautiful and elegant piece of furniture – when, I think, it's really the time and happiness that promotes the best style."
---
Jill's Tips for Building Your Own Happy Home
Pieces with Personality
Look for furniture and décor that reflects the personality of the people living in your home – and look for pieces that pull out that personality! Make sure the item has a function and a purpose. Home décor does not have to be still or stuffy. Home décor has the power to pull out who we are and can serve as a "prop" that will prompt people to be their happy selves.
Bring Out or Bring On Memories
I always buy something "on purpose." And I get emotional about what I buy! For example, I have bright pink, ruffled throw pillows in my living room. My grandmother had very similar pillows in her front room, growing up. As soon as I saw those pink pillows, I thought of her. Now those pillows are not just a thing – they are a memory for me and for my family. Look for items that will bring out those memories (like the ruffled pillows), and also items that will become a memory for your own little family.
Makes You "Squeal with Delight"
I'm often asked to describe my style of design and I can do it in three words – "squeal with delight." When I design an apron, or a housecoat, or even dishtowels – I want it to be a "squeal with delight" kind of a product. I want people to be excited to welcome that item into their home. And that is the criteria we should all use when we buy furniture and décor – does it make you "squeal with delight?" Does it make your heart happy? Because if it does – it will also make your home happy!
Studio 5 wants to see what makes your home happy! Click HERE to submit an idea or picture. Jill would love to feature your special space on an upcoming "Happy Home" segment!
---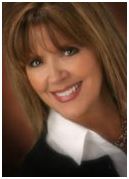 ABOUT JILL: Jill Grover, owner of Jillie Willie has been featured in many national magazines, TV stations and newspaper articles. The Utah businesswoman Jill Williams Grover's pioneering spirit should come as no surprise. It's evident not only in her dedication to her fast-growing company, it's also in her blood.
Her Jillie Willie line of clothing and fashion accessories, which combine pioneer sensibilities and design with modern fabrics and style, are blazing a trail much like that of her great-great-great grandfather James G. Willie, captain of the Willie Handcart company, who led a group of settlers on their arduous trek across the American West.
In August 2006, Grover visited Martin's Cove in Wyoming and spent three days retracing the footsteps of her famous ancestor, developing a newfound admiration for what he and other pioneers endured. Grover said the experience changed her life and planted the seed for Jillie Willie.
All of the Jillie Willie products are a modern interpretation of an old idea. The first Jillie Willie apron "Handcart Girl" was designed by taking a ruffle from a pioneer apron and a ruffle from her mothers apron and merging yesterday and today together in a legacy of love, that transforms the old into the modern.
"There's something about aprons that conjures up unforgettable memories of days gone by, of mothers and kitchens," Grover said. Her line of aprons draws on the nostalgia and updates it with fresh colors, designs and fabric, and modern necessities, like pockets for cell phones.
The Apron is very rich in pioneer history. Jill also relates, "There are many stories of how pioneer women used their aprons for survival in desperate circumstances as they made their long journey out west through scorching plains and icy cold snow of many mountain passes. Aprons were used for shelter, warmth, comfort, and security. One diary tells of a women who after crossing a river with her young child…used her apron to cradle her tiny baby in a tree to keep him safe and secure while she went back across the river to gather her other children, hence the strong apron ties on all Jillie Willie products. Another history relates of an expectant mother that retired early from camp to give birth to a new baby girl under the shelter of nearby willows. In the morning, she appeared cradling her new infant wrapped safely and warmly in the protection of her beloved apron. This sweet baby survived as well as her pioneer mother. Their courage is an inspiration to us all."
Grover started sewing when she was about 10 years old, a skill that she learned from her beloved Mother. "I came from a large family, and I sewed to survive when I was in school," she said. She often wore hand-me-downs from cousins, including one who attended the same school. Grover modified that cousin's old clothes so they weren't identifiable by making shirts out of dresses and scarves and bags out of the left over pieces. "I always had to think out of the box. I love the memories of my loving childhood and appreciate my meager upbringing because it taught me early in life that I had to work for those things that I wanted." Jill learned a strong work ethic that shaped her life and motivated her into becoming a self-made business women.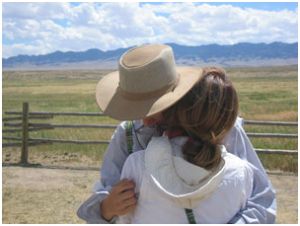 Grover took her creative skills to college, where she studied fashion design.
After graduation she married and raised her family.
Accidently, Jill landed a job with an exclusive interior design firm where she spent 15 years. Jill has come full circle now as she has returned to her first love in being able to work with fabrics and pattern designs which she studied as a college student. She is also the author of several craft and decorating books.
Jill is married to Richard, a hard working organic wheat farmer. As a happy mother and Grandmother she loves that she can run the business from her Utah home. Jill Grover is a forward thinker with a very upbeat personality. Grover's use of color in her aprons is exuberant. In Jillie Willie products you will find such things as spontaneity, unexpected and lighthearted items, along with color combinations that will make you smile.
"It is my hope that we can keep the spirit of gathering and family alive as we gather around the kitchen table. May Jillie Willie products be a reminder of the faith demonstrated by pioneers across the earth."