Blogger Ashley Russell from The Quirky Sophisticate says you can make your own for less than $10!
---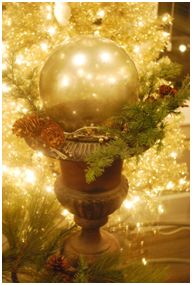 Mercury glass is a glass that has a silvery appearance. Mercury glass actually contains no mercury, although at one point in the 1940's the glass was lined with Mercury to mimic the look of fine silver. This quickly ended because of its toxic nature as well as the expense. But this is where its name came from.
Right now Mercury glass is more popular than ever. I personally love the vintage charm it adds to a home.
You can create your own beautiful "mercury" looking glass pieces with a few craft store supplies. But, first you need to find old crystal and glass items to transform into mercury glass. I found most of my pieces at the D.I., but I even used old light fixtures so really your options are endless!
SUPPLY LIST
– Glass primer
– Isopropyl alcohol
– Natural C sponge

– Krylon looking glass spray paint
– Krylon gold metallic spray paint
– DecoArt champaigne gold craft paint
– Plaid silver sterling craft paint
– DecoArt Glisteneing Snow-Tex
– Walnut Hollow Creative Metal
---
Ashley has posted detailed instructions to make these projects on her blog, www.thequirkysophisticate.blogspot.com.