Sue Neal shares her favorite aebleskivers recipe with butterscotch syrup.
---
When I first moved to Utah 13 years ago, my new neighbor, Sharon Budge, graciously shared a meal of Aebleskivers with our family.
I think I ran to the store to get a pan.
They have become a tradition in our family and are eagerly anticipated for breakfast, dessert and yes, even dinner.
These puffy, pan fried cakes are a winter tradition in Denmark and are generally served with a dusting of sugar and some jam. But in our house, its Sharon's sister recipe of Butterscotch syrup that rules.
Surprisingly, for something so delectable, the ingredients are basic. Although,Buttermilk is the key to a rich, tasty batter and syrup.
What you do have to have, however, is an Aebleskiver pan.
Now, I'm not big on uni-task kitchen items, but this is worth it! The popularity of aebleskivers in recent years means finding a pan is easier than it used to be. I would, however recommend you buy a cast iron pan. It's take a few uses, but eventually you get that perfect non-stick patina.
Aebleskivers
2 Cups Buttermilk

2 eggs, separated

2 C. Flour

1 tsp. soda

1 tsp. baking powder

1/2 tsp. salt

2 tsp. sugar
• Sift together flour, baking soda and baking powder. Add sugar and salt and stir.

• Beat egg yolks and buttermilk in large bowl. Add to dry ingredients and mix well.

• Beat egg whites until stiff.

• Fold in stiffly beaten egg whites and fold into batter. Batter will be quite thick.
Spoon into aebleskiver pan (only to top, otherwise it will overflow) and cook until brown on both sides. You have to have the temperature just right. If it's too hot, the middle won't get cooked through when the outside is brown. If it's too low, then by the time it's brown on one side, the top will almost be cooked. You want the batter to still be runny when you turn it over, so it runs into the base of the pan and create a nice ball shape.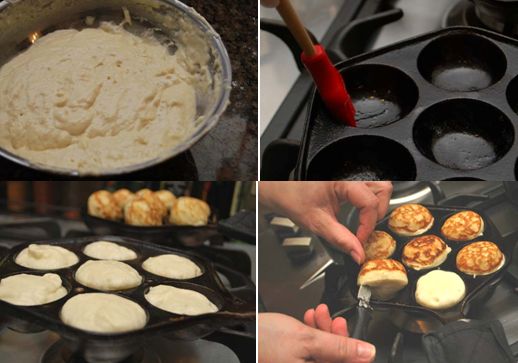 Topping Suggestions
• Butterscotch syrup

• Powdered sugar

• Jam & sour cream
Butterscotch Syrup

1 ½ c. sugar

1 ½ cubes butter

2 Tbsp white corn syrup

¾ C. buttermilk

1 tsp. soda

2 tsp. vanilla
Combine all ingredients but vanilla in saucepan. Cook 7 minutes, stirring every so often, barely boiling. Remove from heat and add vanilla. Store in fridge. Reheat to serve.
---