Studio 5 Contributor Sue Neal shares her favorite syrup recipes in an online extra.
---
My thanks to Sharon Budge, my dear neighbor who shared these recipes with me! Everything she makes is Yummy!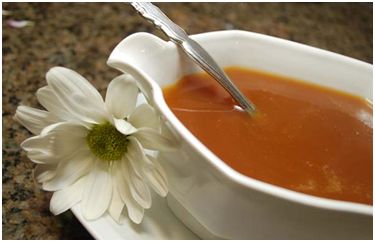 Almond Syrup
1/3 cup butter

1 cup half and half

1 cup sugar

1 Tbsp. Cornstarch

1/8 tsp. salt

½ tsp. vanilla

½ tsp. almond extract
Comb
ine butter and cream on stove, melting and stirring. Combine sugar and cornstarch, and then add mixture to cream. Add salt. Cook over low heat and stir. Remove from heat and add vanilla and almost extract.
Variations: Can add slivered almonds to mixture before serving.
Coconut Syrup
1 cup granulated sugar

1 cup light karo syrup

1 cup cream

1 teaspoon coconut extract
Boil sugar and syrup together until sugar is dissolved. Remove from heat. Add cream and extract. Serve warm.
Coconut Syrup II
1 (13.5 ounce) can coconut milk

2 Tablespoons cornstarch

2 cups light corn syrup

1/2 cup granulated sugar

1/2 cup shredded coconut
Whisk together the coconut milk and cornstarch in a saucepan until the
cornstarch is dissolved. Pour in the corn syrup, sugar, and coconut;
bring to a boil, stirring continually. As soon as the mixture comes to
a rolling boil, remove from heat. Serve warm.
One more idea…
Sharon's second favorite way to serve the Aebleskivers (after the butterscotch syrup) is just to open about six of them on my plate, drizzle with melted butter, sprinkle on powdered sugar and then pour on a drizzle of fresh cold cream. You should try it…..you would love it!
---